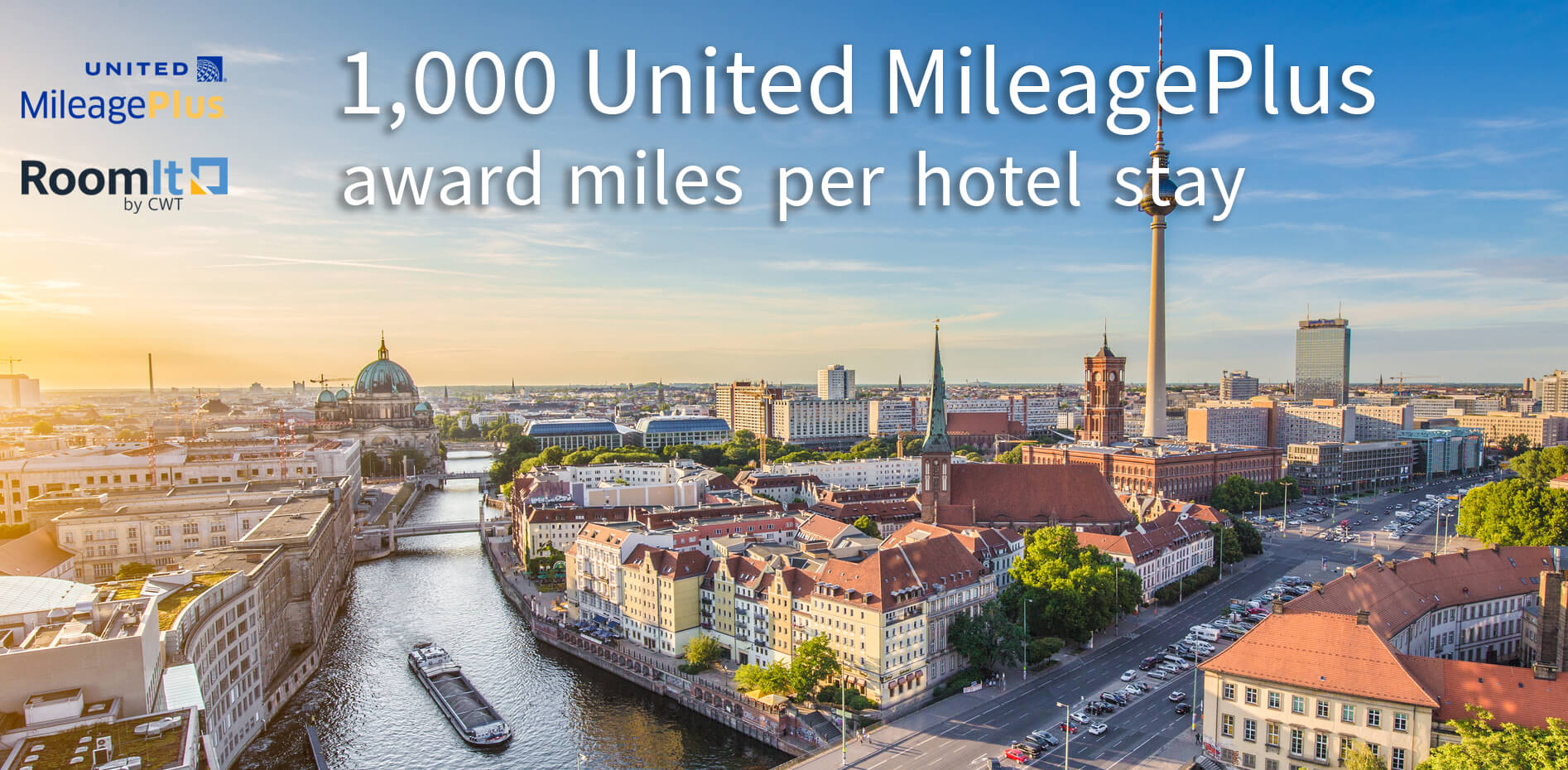 YOUR EXCLUSIVE OFFER
Earn Faster – Go Further

Earn 1,000 United MileagePlus award miles per stay when you book and complete an eligible hotel stay through myCWT between April 1st and May 31st, 2019. Look for a promotional banner when booking!*
If your United MileagePlus loyalty number is in your travel profile, you will automatically receive your award miles. Simply login and make sure it's there before your hotel stay! Or, if you aren't a member, you can enroll here.
As always, please ensure the hotel and rate you select is preferred and in accordance with your corporate travel policy.
*Only certain rates apply. Look for a promotional banner indicating each eligible rate in myCWT. Valid stay dates are April 1st through May 31st, 2019. See United MileagePlus Program Rules for full program details.
Offer Terms and Conditions
Offer is valid where available only for travelers of eligible CWT clients and is not transferable. United MileagePlus award miles are offered by and paid for by Carlson Wagonlit Travel (CWT) for use in promotional driven campaigns. The "Loyalty Booster United MileagePlus award miles" campaign will award 1,000 United MileagePlus award miles per stay per unique traveler booked and completed for any eligible stay using myCWT online or the myCWT mobile app between April 1st and May 31st, 2019. This offer is not eligible for stays booked through corporate online booking tools or CWT travel counselors. United MileagePlus award miles do not count towards United MileagePlus elite tier qualification. Please allow 6-8 weeks for your award miles to be deposited into your United MileagePlus account after your stay. You must have a United MileagePlus account to receive United MileagePlus award miles. If you do not have a United MileagePlus account, you may first sign up at https://www.united.com/ual/en/us/account/enroll/default. Your United MileagePlus membership number must be included in your travel profile in order to receive award miles. United MileagePlus terms and conditions apply. See United MileagePlus Program Rules for full details. CWT reserves the absolute right at any time without assigning any reasons to add, alter, modify, change or vary the Promotion Terms and Conditions contained herein, wholly or in part at its absolute discretion. Changes to the Promotion Terms and Conditions are applicable to any behavior or activity that takes place after the date of change. If, for any reason, this incentive is not capable of running as planned, including tampering, unauthorized intervention, fraud, technical failures, or any other causes which corrupt or affect the administration, security, fairness, integrity or proper conduct of this incentive, CWT reserves the right at its sole discretion to cancel, terminate, modify or suspend the incentive.
If you have questions pertaining to this promotion or United MileagePlus award miles awarded, please email CWT at loyaltybooster@carlsonwagonlit.com and include your full name, email and phone number so we can reply to your question(s).