Kurt Ekert
President & Chief Executive Officer
Kurt Ekert was appointed President & CEO of Carlson Wagonlit Travel in April 2016.
He has more than twenty years' experience in global travel, tourism and technology, with leadership and governance positions at Travelport, eNett, GTA, Orbitz Worldwide, Cendant, and Continental Airlines. Kurt is also currently a director of Passur Aerospace and the World Travel & Tourism Council, an advisor to Freebird Inc., and serves on the boards of the U.S. Department of Commerce Travel & Tourism Advisory Board and the UNGA Global Partnership to End Violence Against Children.
He holds a B.S. from the Wharton School at the University of Pennsylvania, an MBA from the University of South Carolina, and saw active duty as a US army officer.
Patrick Andersen
Executive Vice President & Chief Strategy and Commerce Officer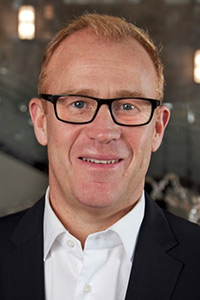 Patrick Andersen is Executive Vice President & Chief Strategy and Commerce Officer. Based in Minneapolis, he reports to the President & Chief Executive Officer, and is a member of the global Executive Leadership Team.
Patrick is responsible for enterprise strategy, marketing, revenue management, corporate communications, and our supplier customers, including airlines, car/ground service providers, GDSs, OBTs and other technology and distribution partners.
Patrick joined CWT in 2008 as Country Manager Denmark. In January 2009 he became Executive Vice President for Denmark and Sweden. In 2011 he extended his responsibilities to include Finland, when he led the acquisition and successful integration of Kaleva Travel. Later in 2011, he assumed additional responsibility for Eastern European countries. In February 2012, Patrick added UK & Ireland to his remit, becoming Executive Vice President UK & Ireland, Nordic and Eastern Europe. In September 2013, he moved to the US as President Americas.
Prior to CWT, Patrick worked for Deutsche Post Worldwide Network and DHL, holding numerous international positions in sales and marketing, operations and general management.
Born in the United States, Patrick is a dual citizen of the US and Denmark and has studied business management at the London Business School. He has also serves as a Non-Executive Member of the Board at Qliro Group since 2013.
Lauren Aste
Executive Vice President & General Counsel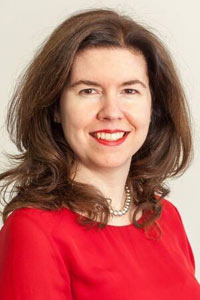 Lauren Aste was appointed Executive Vice President & General Counsel of Carlson Wagonlit Travel in September 2014. Lauren has overall responsibility for all CWT legal and compliance functions on a global basis. Based in London, she reports to the President & Chief Executive Officer, and is a member of the global Executive Leadership Team.
Lauren joined CWT in 2007 as Vice President and Assistant General Counsel of CWT and was the primary legal liaison with CWT Finance overseeing compliance with our global finance arrangements and reporting to our bank syndicate and high yield noteholders. She also provided support in connection with strategic matters, including acquisitions, joint ventures, international securities offerings and other transactions with an emphasis on financing. In 2009, Lauren became Deputy General Counsel responsible for CWT's EMEA and APAC based legal teams.
Prior to joining CWT, Lauren had a successful career in private practice with Dechert LLP in London and, prior to that, with Chadbourne & Parke LLP in New York.
Lauren received her Juris Doctor from New York University School of Law and also holds a Master of Arts in French Studies from New York University Graduate School of Arts and Science and a Bachelor of Arts in Political Science and French from Wellesley College. She is admitted as a Solicitor to the Supreme Court of England and Wales and is a member of the New York and Connecticut State Bars.
She also serves on the board of the World Childhood Foundation USA (WCF).