Ifølge en uafhængig undersøgelse foretaget af CWT, B2B4E travel management-platformen, ligger de fleste rejseannulleringer uden for de forretningsrejsendes kontrol. Rejsende aflyser hovedsageligt deres rejser, fordi deres aftaler er blevet ændret (42 %). Annullering af møder (13 %), vejrforhold (11 %), sikkerhedsforanstaltninger (9 %) og flyannulleringer eller -forsinkelser (9 %) er andre eksterne årsager. Personlige årsager tæller kun for 14 % af annulleringerne.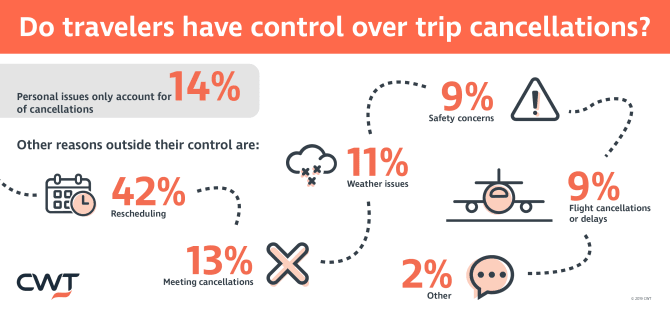 "Interessant nok fandt vores undersøgelse, at 88 % af de annullerede rejser blev ændret til et senere tidspunkt," udtalte Amit Wurgaft, CWT's Chief Experience Officer, Digital. "Heraf bliver 38 % typisk ændret straks efter den første rejse bliver annulleret."
Undersøgelsen viser også, at 68 % af de rejsende ikke annullerer alle rejsesegmenter på samme tid. 45 % annullerer fly før hoteller, og 22 % starter med at annullere overnatning, og derefter annullerer de flysegmenterne.
Annulleringsregler og eventuelle gebyrer
Når det gælder annulleringsregler og eventuelle gebyrer, afdækker undersøgelsen, at 85 % af de rejsende foretrækker at kende gebyrerne, før de begynder at annullere rejsen, eller under annulleringsprocessen.
Faktisk er klarhed (37 %) og tilgængelighed (20 %) vedrørende annulleringsregler og gebyrer de forretningsrejsendes vigtigste overvejelser. Da de blev spurgt om, hvilke forhold de primært ønsker at forbedre i annulleringsprocessen, lå disse to faktorer øverst sammen med reducering af den tid, det tager at bekræfte, at alt er annulleret (22 %), færre trin i selve annulleringsprocessen (10 %) og det at have en hurtig måde, hvorpå rejsen kan annulleres fra deres mobile enhed (10 %).