Business travel tip: The future is green for wonderful Copenhagen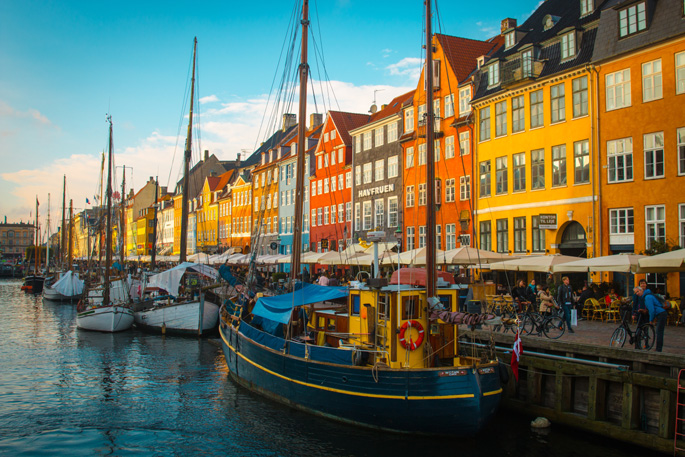 Known for its traditional architecture and first-rate public transport system, the Danish capital, Copenhagen, is as attractive to business travelers as it is to tourists. Even better, it's also one of the most sustainable cities on the planet.
Named the greenest city on earth in the 2009 Siemens/Economist Green City Index and winner of the 2014 European Green Capital Award, Copenhagen has a new challenge: to be the first country on the planet to be carbon neutral by 2025. With a population of 1.3 million, Copenhagen has built its reputation as a world-leading sustainability city from the ground up. Indeed, the city's sustainable future is partially built on rubbish. Waste-to-energy power plants supply electricity for thousands of households and no less than 98 per cent of the city's heating needs – surplus heat is piped beneath the streets to warm radiators in a system called district heating.
Waste-to-energy power plants are just one of a number of measures employed by the city to reduce its carbon footprint (it slashed its CO2 emissions by 42 per cent between 2005 and 2017). Many of the initiatives can be seen as visitors fly into Copenhagen airport. An arc of windmills stands just off the coast and feeds clean energy into the grid – 40 per cent of Danish electricity was provided by windmills in 2017. They are joined on the skyline by the 85-metre-tall waste-to-energy plant Amagerbakke (Copenhill), wonderfully adorned with an artificial ski slope. Designed by starchitect Bjarke Ingels, it's a flashy project in an otherwise architecturally-subdued city (the city council rarely allows buildings above five stories). Rather than the glass and steel skyscrapers that are ubiquitous in major European cities, it's the spires of its many historic castles and churches that characterize Copenhagen's low skyline.
Happy and business-friendly
Copenhagen's subdued style and focus on sustainability make it an attractive destination for both business and pleasure. Indeed, in 2017, Copenhagen was identified as the best city in the world in which to do business by consultancy Hickey & Associates. Copenhagen has also topped Monocle magazine's Quality of Life Index and was ranked sixth in the 2017 edition. Oh, and Denmark was found to be the world's second happiest country in the 2017 UN World Happiness Report.
Efficient transport, high-quality cuisine and business opportunities all play a role in helping modestly sized Copenhagen make a serious international impact. For travelers concerned about their environmental footprint, Copenhagen is a worthy destination.
Not to miss in Copenhagen
Copenhagen is packed with first-class museums and restaurants, with these some of our favorites:
Experimentarium: young or old, it doesn't really matter, because everyone enjoys Experimentarium's "celebration of curiosity". It has 16 interactive science and technology exhibitions – one even includes filling the air with square bubbles. www.experimentarium.dk/en/

The Viking Ship Museum: surely, a visit to Denmark should involve meeting a Viking or two? Located next to Roskilde Fjord, west of Copenhagen, five 1000-year-old Viking ships are on display in this wonderful museum about all things Viking. www.vikingeskibsmuseet.dk/en/

Biomio Organic Bistro: the Kødbyen district is packed with bars, pubs and restaurants, and it's seen as one of the most exciting places in the city. Biomio Organic Bistro (Bob for short) has won the heart of residents and visitors alike – it serves delicious breakfast, lunch and evening meals, plus some fabulous local (and international) organic beers. www.bobbistro.dk/en/
The complete article in our CWT Connect Magazine also includes information on green start-ups and Copenhagen's investment in a green future. You can find further recommendations for organic restaurants and environmentally friendly tips for getting around in the Danish capital.
Source: CWT Connect Magazine 03-2018; Text: Peter Stanners
Photo by Liam Macleod on Unsplash