Contest
Win an Austrian Airlines trolley made by TITAN.
Answer the following question: On which flights is the myAustrian Premium Economy Class available?
a. On selected Austrian Airlines long-haul flights
b. On Austrian Airlines short- and medium-haul flights
c. On all Austrian Airlines long-haul flights
Prize: Sponsored by Austrian Airlines.
Please send us your reply by E-Mail.
Entry deadline is 26.03.2019. 
The following rules apply to participation in this contest: Entry deadline is 26.03.2019. Participation is limited to those who subscribed to the CWT Traveler newsletter and are 18 years or older at the time they submit their entry. Participation and the chances of winning are in no way contingent on requests for information or the purchase of merchandise or services. Employees of Carlson Wagonlit Travel and their family members, as well as employees of companies involved in the contest, are not eligible to participate. Each individual may submit only one entry. The judges' decision is final. Non-cash prizes may not be redeemed for cash. By participating in contests offered by CWT, participants tacitly declare their consent to the contest rules and eligibility requirements. Winners will be notified in writing, and their entry in the contest constitutes permission for their names to be published on our website. Personal data will initially be stored, but can be deleted again upon request (§28 BDSG – German Data Protection Act). Carlson Wagonlit Travel assures that the data will not be passed on to third parties except as necessary to conduct the contest.
More space, more service: Discover the myAustrian Premium Economy Class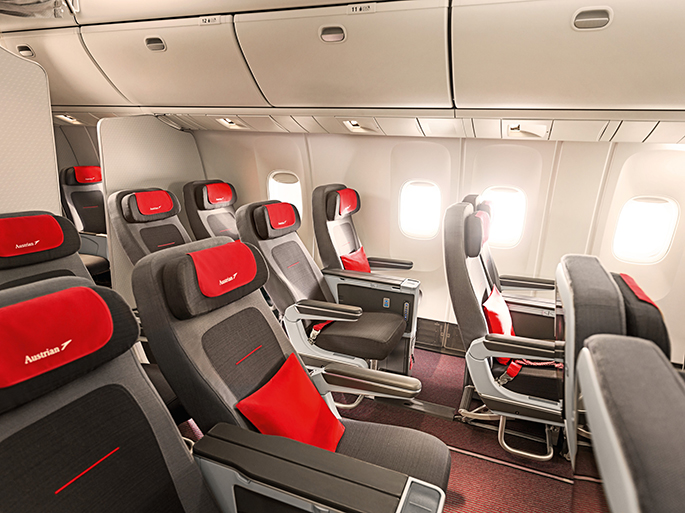 The myAustrian Premium Economy Class takes passengers to their destinations more comfortably. Relaxation begins as soon as they step on board due to the wide seats with generous seat pitch. Business travellers can get on with their work in comfort thanks to the additional storage space, USB port and separate power socket at each seat.




The Premium Economy Class at a glance:
- New, wider seat with generous seat pitch
- Footrest from the second row or leg-rest with integrated footrest in the first row
- Always an individual armrest with folding table and cocktail tray
- 12-inch monitor with remote control for the in-flight entertainment system
- Personal power socket and USB port at the seat
- 2 x 23 kg (Senators and HON Circle members: 3 x 23 kg) free baggage
- High-quality selection of meals with menu card
- Welcome drink
- Amenity kit with useful travel accessories
- Available on all Austrian Airlines long-haul flights