Hamad International Airport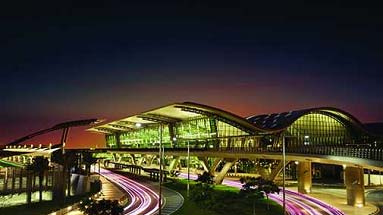 Comfort. Convenience. Choice. These are the things that matter most to today's traveler, and you will find them all at Hamad International Airport, home of Qatar Airways. 
Designed for passengers both regional and international, it offers facilities that are efficient, modern and user-friendly. Wide check-in aisles, abundant service desks and speedy security clearance make your pre-flight experience quick and easy. The result is a world-class facility.
Customers stepping inside Hamad International Airport experience luxury and space, sophistication and elegance. High ceilings and expansive concourses give a sense of grandeur, while designer touches and beautiful art installations create an environment far beyond convention.
Alongside extensive and varied dining options, this is one of the world's largest duty free shopping areas, where elegant boutiques and stunning stores combine to create a truly unforgettable retail experience.