Mobile, digital or human: How technophile are business travelers?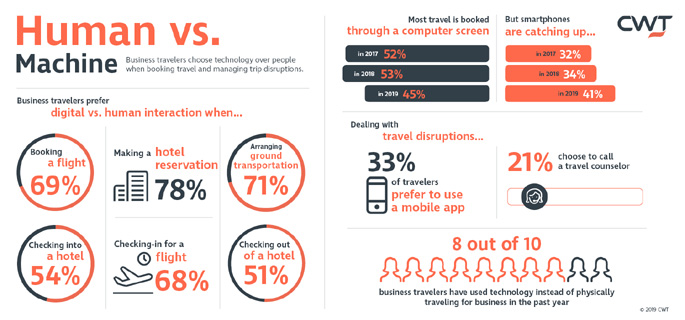 In the same study, CWT also examined the technical affinity of business travelers. More than two-thirds prefer to arrange their travel digitally, in other words via an app or a website browser.
However, there are differences depending on the task at hand and the means of transport: Whereas 69 percent of business travelers are more inclined to book their flights online than with a human travel agent, this figure rises to 71 percent for booking ground transportation and even 78 percent for hotel bookings. Sixty-eight percent of travelers prefer to check in for their flight digitally. However, only 54 percent use digital technology to check into their hotel – and as few as 49 percent to check out.
The devices used for this have changed. Bookings made on a computer are declining – from 53 percent in 2018 to just 45 percent in 2019 – while the use of smartphones is rising – from just 34 percent in 2018 to 41 percent in 2019.
There are also regional differences, with the largest being between Europeans and Asians: 61 percent of travelers in Europe prefer to book their flights online, compared to 71 percent in Asia-Pacific. However, Americans lead the field when it comes to checking in online.
"Technology is becoming more and more dominant in the travel ecosystem," says Andrew Jordan, CWT's Chief Product and Technology Officer. "Digital interactions are taking over, so the travel industry must keep evolving to offer companies and their employees the experience they want and expect."
Technology is also playing a greater role in another respect: 8 out of 10 participants in the study said they used technology such as web conferences in the past year instead of traveling.
You can find more information here.