The all-new Air China Premium Economy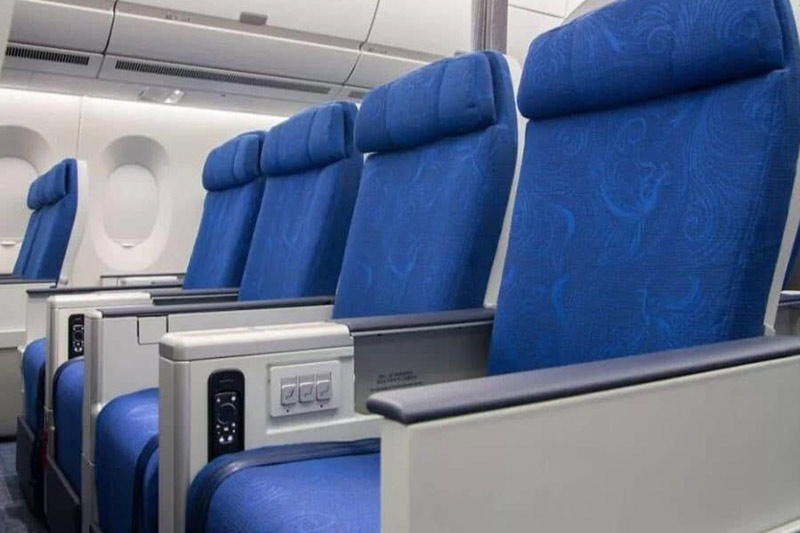 The all-new Premium Economy Class available on the Air China A350 comes with a complete overhaul of the seats. The cabin is arranged in a spacious 2-4-2 layout and a 38-inch pitch and 8-inch recline is offered for all seats. The wide and comfortable seat is equipped with a four-way headrest, adjustable leg rest, and an integrated footrest. In order to help you stow way your belongings, each seat comes with a mesh storage pouch, a custom magazine holder and a pull-out clothing hook. There is ample arm rest storage space and a retractable exterior armrest made of leather. All seats come with a 110V universal electrical outlet, a USB charging port as well as a 12-inch personal touch display.
Additional benefits
Guests in Premium Economy enjoy additional benefits and services. On the ground, exclusive check-in counters for Premium Economy are available and priority boarding is offered. Baggage allowance is increased from 1x23kg to 2x23kg compared to Economy Class and all baggage is marked priority, allowing passengers to bring more luggage and for the baggage to arrive faster at the baggage belt. Once in the cabin, a welcome service awaits you and you will be able to enjoy Business Class style catering and beverages and amenity kits and slippers are offered as well.