Qsuite: First in Business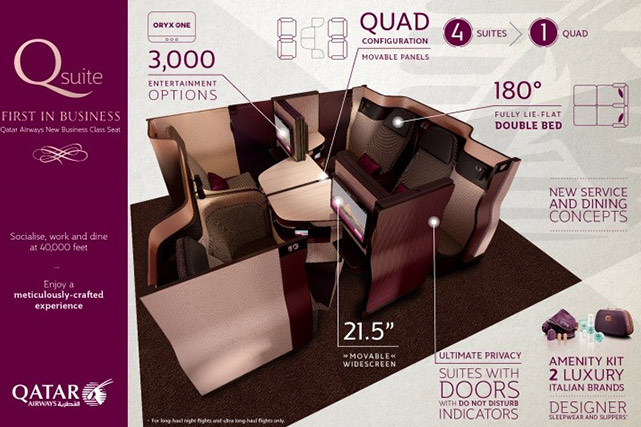 Since April 2019, Qatar Airways has been offering its Business Class passengers route the revolutionary and patented Business Class QSuite experience in an Airbus A350 on both daily flights from Zurich to Doha.
With its rear-facing and front-facing seats, the cabin takes cabin innovation to a whole new level with its quad layout. The cabin interior is in the unmistakable Burgundy and Grey colours and is accentuated by elegant and warm red gold decorations. The seats are covered with the most modern and elegant fabrics to enhance passenger comfort. The media panels are equipped with a universal power supply socket for USB, HDMI and NFC connections.
Passengers travel in a private, multifunctional suite that can be tailored to their individual needs. Adjustable partitions allow passengers to transform their space into a social area so they can work, dine or socialize at an altitude of 40,000 feet. Sliding doors and panels transform the area into an individual suite for ultimate privacy and comfort.
The excellent cabin crew pampers passengers with culinary delights from around the world and offers an à la carte experience created using only the finest and freshest ingredients and rounded off with the very best wines. Business Class passengers enjoy an individual service and can dine whenever they wish.