Qatar Airways Facts
Qatar Airways is the national carrier of the State of Qatar. As one of the world's fastest growing airlines with around 300 aircrafts on order. Qatar Airways has seen rapid growth in more than 20 years of operation to over 150 key business and leisure destinations across the globe. The company is also part of the Oneworld alliance.
At the 2018 Annual Skytrax World Airline Awards, Qatar Airways received the award of "Best Business Class" for the sixth time and third consecutive year. In addition, the company received three further major awards including 'Best Airline In The Middle East' for the seventh time , 'Best First Class Airline Lounge' for the second consecutive year and 'Best Business Class Seat', in recognition of its ground-breaking Business Class experience.
Further awards from the 2018 Skytrax Awards include; Best Business Class in the Middle East, Best Business Class Lounge in the Middle East, Best Economy Class in the Middle East, Best Cabin Crew in the Middle East and Best Airline Cabin Cleanliness in the Middle East.
Qatar Airways News – New Destinations and Frequencies
Discover the world with Qatar Airways and its ever expanding route network. In 2018 Qatar Airways launched various destinations including Pattaya, Penang, Canberra, Thessaloniki, Malaga and Antalya. With several highlights to come, with Las Vegas, San Francisco, Rio de Janeiro, Medan, Libreville, Douala and Lusaka.
In addition to these new and exciting destinations, the Airline further expands its network by adding extra frequencies to the existing network permitting more and shorter connections:
Double daily flights in Zurich from 17 September 2018, three daily flights to Male, two daily flights to Ho Chi Minh, three daily flights to Bali, six daily flights to Bangkok and five daily flights to Colombo.
Qsuite: First in Business
Welcome to a new standard of Business Class!
Qatar Airways introduced in 2017 the QSuite, the industry's first-ever double bed available in Business Class, with privacy panels that stow away, allowing passengers in adjoining seats to create their own private room.
Adjustable panels and movable TV monitors on the center four seats allow colleagues, friends or families travelling together to transform their space into a private suite, allowing them to work, dine and socialize together.
The Qsuite configuration is available on selected Airbus350 and Boeing777 and is now operating on Frankfurt, London, Paris, New York, Washington, Chicago, Mumbai, Bangalore, Colombo, Shanghai, Sydney, Canberra, Houston and more to come.
Qatar Airways in Switzerland with the A350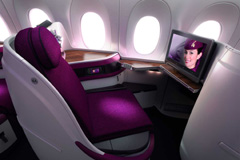 In Switzerland, Qatar Airways will increase the frequency and operate a double daily flight from/to Zurich from the 17th September, clearly showing its commitment to the Swiss Market and the Airlines´ strategy to further expand its already vast network. From Geneva a daily flight continues to the Airlines´ hub Hamad International in Doha.
Both cities are operated with the latest generation aircraft Airbus A350 including 36 lie-flat-bed seats in Business Class with aisle access for all seats, large digital screens, ample stowage, WI-FI access and a dine-on-demand service throughout the flight. In Economy, 242 wider seats with touch screen monitors and over 3000 entertainment options offer more comfort and a truly 5 star experience in the air.
Hamad International Airport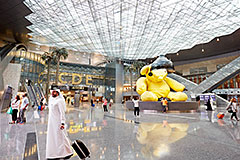 Qatar Airways inaugurated the Hamad International Airport (HIA) in May 2014. Named a five star airport, it has also been awarded the status of "fifth Best Airport in the World" and represents the state-of-the art hub in Doha. HIA offers world-class facilities which set new standards in customer comfort and seamless travel. It features 138 check-in counters and has the capacity to accommodate 50 million passengers per year at full capacity. Various dining options and one of the world's largest duty free areas covering over 40,000 m2 create a truly unforgettable airport experience.
Al Mourjan Business Class Lounge
Business Class passengers can discover the Al Mourjan Lounge, spread over 10,000 m2. In addition to numerous dining options and private workstations, equipped with personal display screens and complimentary WiFi, the lounge offers customers a retreat to relax between connecting flights and ensure that time spent at the airport is a pure pleasure.
Privilege Club – The Frequent Flyer Program of Qatar Airways
Enjoy a range of exclusive privileges and benefits designed to make travelling with Qatar Airways even more rewarding. Privilege Club members can also earn and redeem miles on member airlines of the oneworld alliance across the entire alliance network. Customers also earn Qpoints in accordance to the purchased booking class and the regions travelling to and from. The more Qpoints one earns, the higher their membership tier. All four tiers (Burgundy, Silver, Gold, and Platinum) offer their own exclusive benefits and privileges. Enroll for Privilege Club under www.qmiles.com.
STPC- Program (Stop-over For the Purpose of Connection)
For customers with a layover in Doha where no connection between 8-24 hours exists, Qatar Airways offers complimentary hotel accommodation as well as visas and return transfers. (STPC is not permitted for Intra-Gulf-Travel or the promo classes: O, T, Q. Minimum leg value 400USD including ½ YQ tax)
Free Visa for Qatar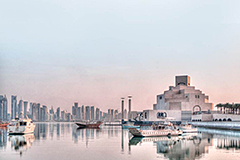 Qatar's Ministry of Interior (MoI), the Qatar Tourism Authority (QTA) and Qatar Airways now permits visa-free entry for citizens of 80 countries. Citizens of those countries wishing to visit Qatar will no longer need to apply or pay for a visa; instead, a multi-entry waiver will be issued free-of-charge at the port of entry, upon presentation of a valid passport with a minimum validity of six months and a confirmed onward or return ticket. Depending on the nationality of the visitor, the waiver will either be valid for 180 days, from the date of issue, and allow the visitor to spend a total of 90 days in Qatar (multiple-entry waiver); or it will be valid for 30 days from the date of issue and entitle the visitor to spend up to 30 days in Qatar with the possibility of applying for an extension of the waiver for an additional 30 days (multiple-entry).