Sleep, glorious sleep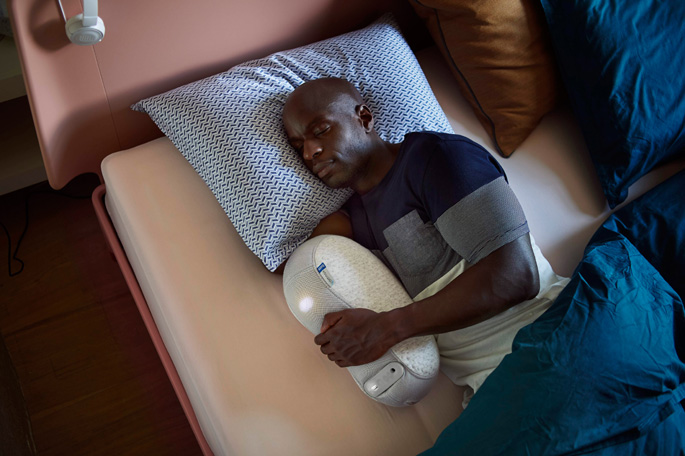 There seems to be an app or gadget for just about everything nowadays, though not all are worth getting out of bed for. But with these six here, you could be on your way to getting a better night's sleep.
1 Sleep-inducing robot
The idea of spooning technology in bed sounds strange – but Somnox is no ordinary robot. Shaped like a large kidney bean and covered in soft fabric, it "breathes" in your arms. Once you synchronise your breath with its rhythm, Somnox will gently guide you to sleep. The developers, Dutch engineering students, have created a personalised app enabling you to decide whether you are aiming to "nap", "sleep" or "relax". Your robo-bed buddy can also lead you through meditation, and play lullabies or white noise. Ca. 560 euros, www.meetsomnox.com
2 Snore no more
Snoring and sleep are not good bed partners, that's for sure. Forget restrictive mouth-guards or nose strips, Smart Nora is a simple solution that expands to inflate your pillow at the first sound of a snore, to gently move your head and neck, helping you breath clearly again. The device consists of a compact pillow insert and a palm-sized snoring monitor. Happy users claim it is saving relationships across the globe! Ca. 265 euros, www.smartnora.com
3 How to sleep better
The team behind the Remee sleep mask doesn't just want you to sleep better – they want to improve your dreams. Studies have shown we process thoughts as dreams in REM sleep, freeing us to focus better on waking. Remee is fitted with adjustable LEDs, which pulse in customisable patterns to improve your REM sleep. Weighing less than 28 grams, the Remee mask is powered by a razor-thin, bendy circuit inside an aerated padded shell. It's smart enough to wear at 9,000 metres and small enough to take everywhere with you.
Ca. 85 euros, www.sleepwithremee.com
4 The light is right
Who better than a trio of insomniac friends to develop a sleeping aid? My Dodow uses metronome technology, gently pulsing a soft blue light on the ceiling, to which you match your breathing. Exhalations are longer, which is a proven relaxation technique. Press the small device once for the eight-minute mode, twice for a 20-minute mode, and My Dodow will automatically switch off afterwards. The light is dimmable, to avoid disturbing sleep partners. Ca. 57 euros, www.mydodow.com
Source: Sian Lewis, UK Connect Magazine