Contest
Win a weekend for 2 persons in a double room incl. breakfast at an NH Hotel of your choice in Germany, Austria, Switzerland, Poland, Czech Republic or Romania.
Answer the following question: How many hotels we will open in the Business Unit Northern Europe in the upcoming months? 

a) 13
b) 10
c) 5
Prize: Sponsored by NH Hotel Group.
Please send us your reply by E-Mail.
Entry deadline is 21.05.2019.
The following rules apply to participation in this contest: Entry deadline is 21.05.2019. Participation is limited to those who subscribed to the newsletter connect and are 18 years or older at the time they submit their entry. Participation and the chances of winning are in no way contingent on requests for information or the purchase of merchandise or services. Employees of CWT and their family members, as well as employees of companies involved in the contest, are not eligible to participate. Each individual may submit only one entry. The judges' decision is final. Non-cash prizes may not be redeemed for cash. By participating in contests offered by CWT, participants tacitly declare their consent to the contest rules and eligibility requirements. Winners will be notified in writing, and their entry in the contest constitutes permission for their names to be published on our website. Personal data will initially be stored, but can be deleted again upon request (§28 BDSG – German Data Protection Act). CWT assures that the data will not be passed on to third parties except as necessary to conduct the contest.
The NH Hotel Group is expanding its portfolio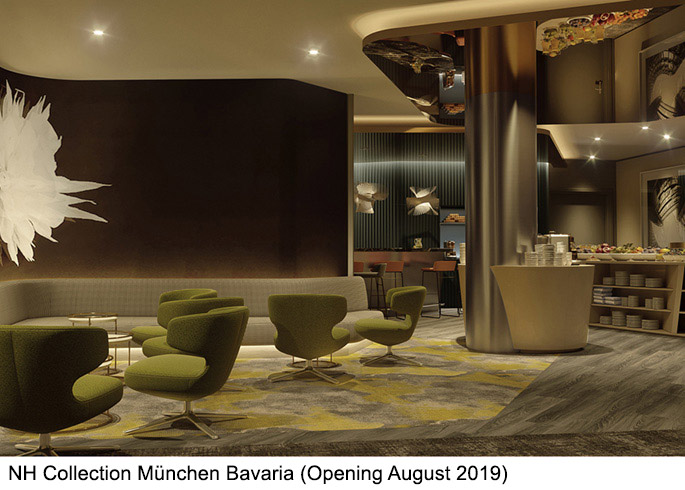 NH continues to grow - not least stimulated by joint projects and initiatives with new major shareholder Minor International.
After reporting a record result last year, the NH Hotel Group will not be wasting any time in 2019 either. Alone in the Business Unit Northern Europe five new hotels will open in the coming months - one of each under the nhow brand (London) and the core brand NH Hotels (Leipzig) and three new NH Collection hotels in Amsterdam, Antwerp and Munich. Thus, by the end of this year alone in the Business Unit Northern Europe the hotel group will be present with a total of around 130 hotels.
But that is far from all: After Minor International having acquired 94.1 percent of the NH Hotel Group's share capital at the end of last year, the two companies are currently working to integrate all hotel brands under a single umbrella brand, which will give them a presence in over 50 countries worldwide. The portfolio of 500 hotels is then divided into eight brands: NH Hotels, NH Collection, nhow, Tivoli, Anantara, Avani, Elewana and Oaks.
It stays exciting at the NH Hotel Group!