What do business travelers really want?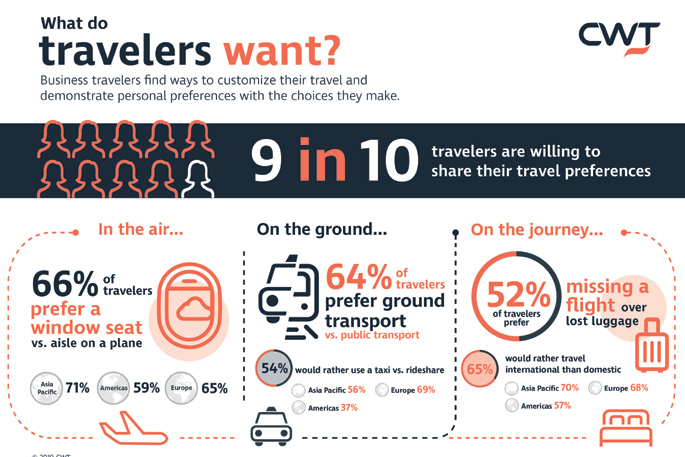 This is what CWT asked 2,700 travelers, who had been on at least four business trips in the past 12 months, in a study carried out in February 2019. The participants were from 18 countries on 3 continents, including Great Britain and the United States.
Tell all: Among many other interesting findings, the study revealed that almost all interviewees are willing to share their preferences if this improves their travel experience: 9 out of 10 (89 percent) would share their preferences with an app or travel agent. However, European travelers are least willing: 14 percent are not prepared to share their data.
Look out: These preferences include the choice of a window seat. In fact, two-thirds of all those interviewed would rather sit at the window on a plane than in an aisle seat. This figure is as high as 71 percent among travelers from Asia-Pacific, while just 59 percent of travelers from North and South America prefer a window seat. Europeans are in the middle at 65 percent.
Hang on: Even though the idea of missing a flight is a nightmare for most travelers, a small majority would prefer not to fly at all than be separated from their luggage.
According to Niklas Andreen, Executive VP and Chief Traveler Experience Officer at CWT, "These findings provide fascinating and sometimes counter-intuitive insights. And we see significant differences between regions."
For more information, see here.