Play your cards right with cashless payments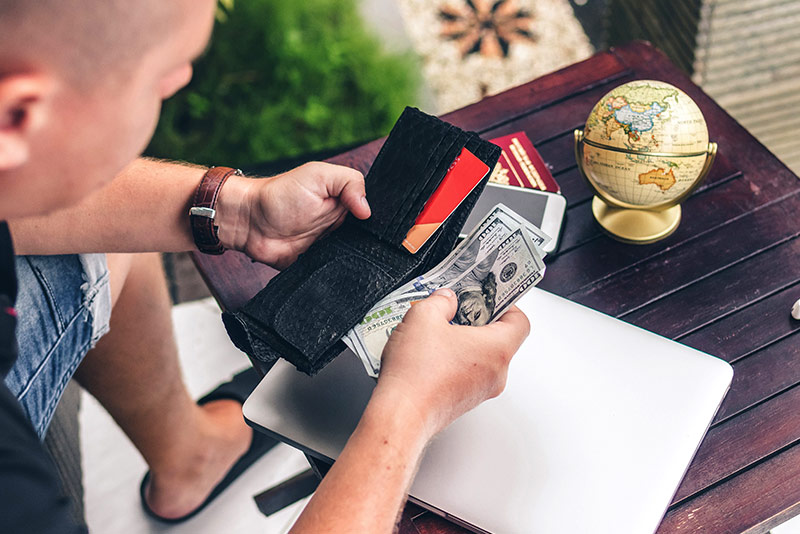 Even if some countries still require cash, most nowadays allow even the smallest amount to be paid by credit card, smartphone or other cashless payment means. This has many advantages, above all for business travelers. No wonder it is becoming increasingly popular, although it is a good idea to take some coins or banknotes with you.
Pay anywhere, anytime
Business travelers like things to be practical. In many countries, you can pay for everything from a hire car to a snack at the railway station cash-free with a bank or credit card or by smartphone. Within the euro zone, you can also use an EC-card without incurring any fees, wherever you see a Maestro or V-Pay sign.
But to be on the safe side, it is a good idea to have a credit card in your luggage – especially if the country is outside the euro zone. That will save you the trouble of looking for an exchange office, an ATM, or juggling different currencies in your wallet if your trip takes you to several countries. It also protects you against forged money. However, using a credit card or withdrawing money from foreign ATMs often incurs fees.
Only for business purposes
Many business travelers use a company credit card, which is extremely practical, especially when it comes to settling accounts after the trip. It makes it easier to trace transactions afterwards and shows exactly how much money has been spent on what. However, it can only be used to pay for things that serve the purpose of your business trip. Any private expenses are a no-go. Companies should specify in their policy what expenses can be paid for with a corporate card. If you lose the card, you must inform your company as well as the bank. It is best to block it immediately so that it cannot be used improperly to withdraw or spend money.
Get the right information
Find out before you set off whether cashless payments are possible in the country you are traveling to. In many European countries, especially in Scandinavia, you hardly need cash at all. Great Britain and North America now also tend largely towards cashless payment. In other countries or in more rural areas, however, you may need coins and banknotes in the local currency. It is generally a good idea to have some cash with you, even in major cities – after all even the most advanced technology can fail, and a tip is best paid in cash. In any case, you should find out about the payment methods at your destination.
Virtual credit cards are the thing
For business travelers who do not have a corporate credit card, for whatever reason, a virtual credit card is a practical alternative. This is how it works: For each booking made – whether online, offline or by smartphone – a unique credit card number is generated with a fixed spending limit. Travelers can use this to make the agreed payment. As the card does not exist physically, it cannot be lost or stolen. The account data can be integrated directly into travel expense accounting.
Photo: Artem Beliaikin @belart84 on Unsplash