CWT travel tip: Bogotá: a city transformed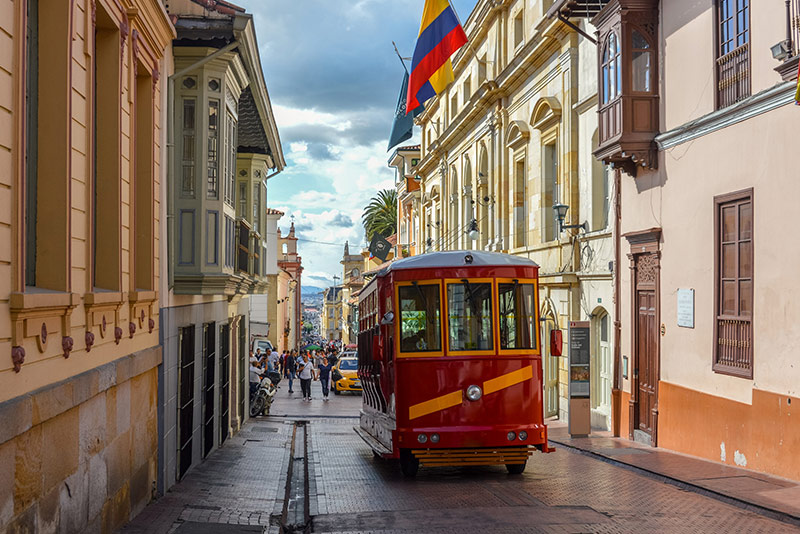 Think you know Bogotá? Colombia's capital is leaving behind its turbulent history and becoming Latin America's gateway for business, innovation and eco-friendly industries.
The approach to Bogotá by plane is a unique experience: a white cloudy sky suddenly opens up, and in an instant all you can see is green. These are the bushy Andean mountains, known to Bogotanos as Cerros Orientales, the terrain where farmers raise livestock outside the city. It's also where you see greenhouses packed with flowers, a reflection of the fact that Bogotá's rural region provides 80 per cent of the floral market in Colombia – helping the country to be the world's second largest flower exporter, after the Netherlands.
As you prepare to land at El Dorado International Airport you start to appreciate that this is a big, busy capital, home to eight million people, 11 million if you take into account the surrounding rural area. Such is its importance that the city creates 31 per cent of the country's GDP: USD103.7 billion (GBP80 billion), more than countries such as Guatemala, Uruguay, Panama and Costa Rica.
During the 1980s and 1990s, Bogotá was seen as a violent city, where narcos (organised crime gangs) and guerrillas ruled. Violence was a daily reality and the development of the city stagnated. In the 2010s, however, the government's peace negotiations with FARC-EP (Revolutionary Armed Forces of Colombia – People's Army) and the agreement to end the bitter armed conflict seemed to be working. Alongside this, and the creative city administrations of mayors such as Antanas Mockus and Enrique Peñalosa (who is governing the city for a second time), Bogotá is undergoing an exciting transformation. It is becoming a place where business, innovation and green technologies are flourishing. This has also led to the cultural and creative industries booming, called the Orange Economy.
Smart Specialization Strategy
Three years ago, Bogotá's academia, public sector and private enterprises got together to define the future of the city to improve productivity and prosperity, plus sustainable development. The result was the Smart Specialization Strategy, which focuses on promoting creative economies as pillars of growth; science and life industries, including health services, cosmetics, pharmaceuticals and medical devices; BPO (business process outsourcing), logistics and transportation; human resources, advanced knowledge; and sustainability.
Find out how the city is developing economically, what there is to see and do and how to get there from page 18 in  the latest edition of Connect magazine.
Source: Connect Magazine 02/2019, María Isabel Magaña, Photo: iStock