How travelers feel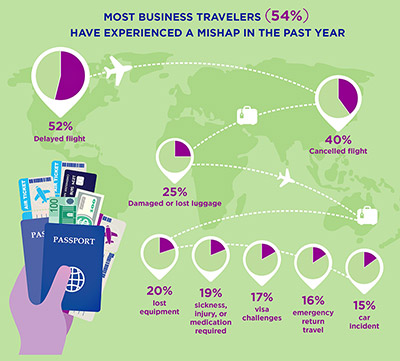 RoomIt by CWT together with the Global Business Travel Association (GBTA) has published the "GBTA Business Traveler Sentiment Index™." This survey examines how business travelers assess their travel experience and how their feelings influence their behavior. The study identifies key factors for traveler satisfaction and classifies them in a "Sentiment Index."
The index comprises four key categories:
Traveler experience (i.e., attitudes toward general trip experience from booking to air travel and hotel stays to expense reporting)
Trip success and meeting business objectives (i.e., attitudes toward aspects of the business trip that lead to improved trip success)
Travel management policy friction (i.e., attitudes toward company travel policy management, flexibility and comprehension)
Technology for business travel (i.e., opinions about technology's impact on business travel)
Traveler experience has the greatest impact on traveler satisfaction, with the choice of hotel being an important factor, as this is often seen as a safe haven. Health also plays a key role: 83 percent of travelers would rather book a hotel with a gym or fitness center.
Tips for buyers:
Travelers' health is a key aspect. Studies reveal that employees who eat healthily and do sport for half an hour at least three times a week perform better in their job. Frequent travelers focus on workout facilities, wellness and a balanced choice of dishes when booking a hotel. Buyers should therefore consider this in deciding which hotels to include in their travel program, as it can contribute to improving travelers' satisfaction. It can also give companies the upper hand when it comes to recruiting and employer branding.
About the study:
In an online study, travelers from the United States, EMEA, Asia Pacific and Latin America were asked about their business travel experiences. The results were compiled in four categories with a direct impact on customer sentiment that form the basis for the index. Further analyses will measure changes against this benchmark index on a quarterly basis.
In the coming editions of the Connect Newsletter, we will present further fascinating findings from the Sentiment Index. The entire study can be downloaded free of charge here.