Global Travel Forecast: How are prices trending in EMEA?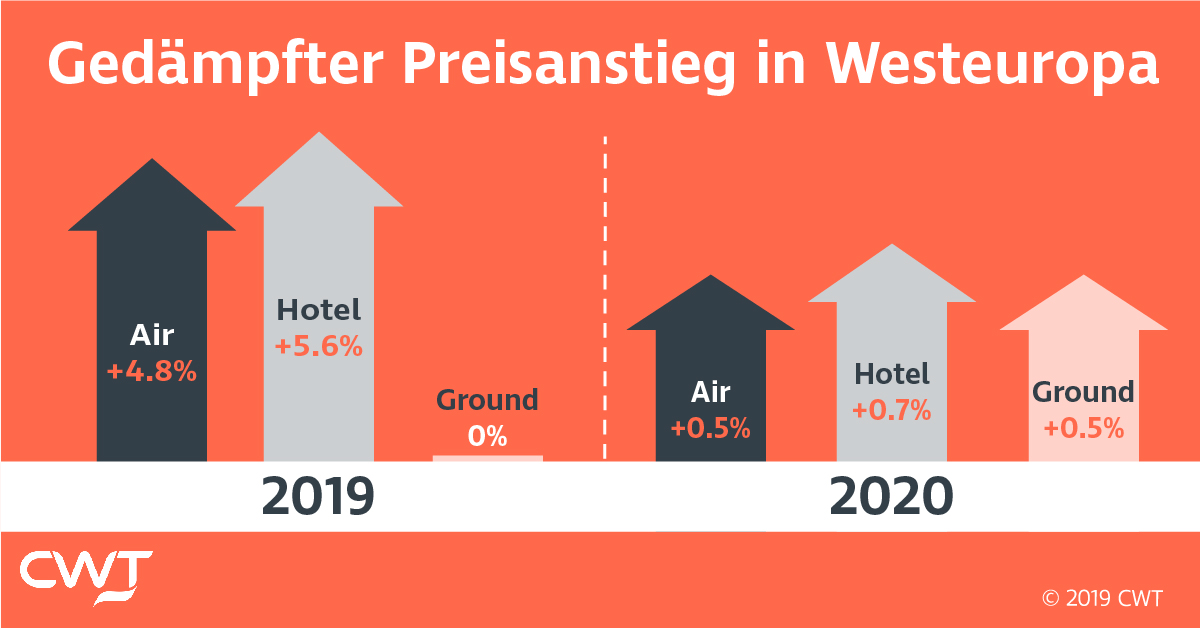 According to the 2020 Global Travel Forecast, travel prices are set to rise only a little on average worldwide in the coming year. Because the difficult economic situation in many regions around the world is also impacting demand, and therefore prices. In the following, we take a closer look at the EMEA region:
Flights: No big surprises are expected here: Flight prices are set to increase by 2.2% in the Middle East and Africa, and by just 0.5% in Western Europe. In Eastern Europe, prices are even predicted to decline slightly by 0.2%. The greatest cause of uncertainty and disruption in this respect is the unresolved issue of Brexit. One thing is certain: A "no deal" will have a huge impact on business relations, private and business travel.
Hotels: Prices are mixed in this segment, ranging from -3.4% in Denmark to +4.7% in Egypt. On average, however, a rise in prices of just 0.7% is expected in Europe as a whole. Hotels are increasingly favoring dynamic price models, while sharing concepts have not yet caught on everywhere in the business travel market.
Ground: In the case of rental cars, we expect prices to increase marginally by 0.5% in Western Europe, the Middle East and Africa. In Eastern Europe, prices are set to rise by 1.5%. The rail market is also shaping up, thanks to the EU's Fourth Railway Package, which will open it up further. That should result in lower prices or at least slow down the hike in prices.
DOWNLOAD A GERMAN SUMMARY OF THE MOST IMPORTANT TRENDS AND INSIGHTS AS WELL AS THE COMPLETE GLOBAL TRAVEL FORECAST IN ENGLISH.