Frequent travelers' greatest concern is that traveling puts a strain on their home life and their colleagues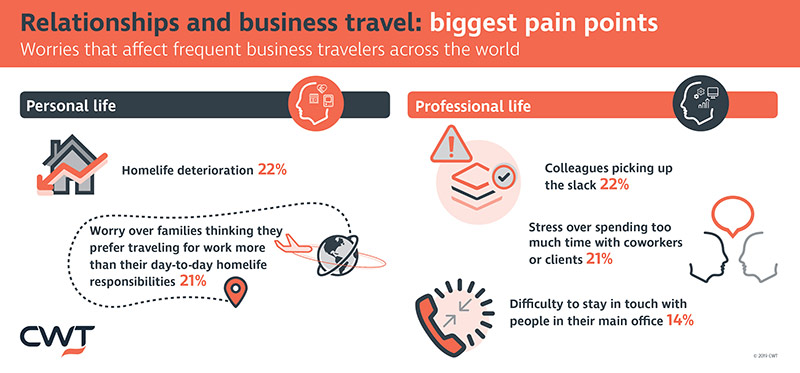 Frequent travelers worry most that traveling places a burden on their private and professional environment. A CWT study reveals that 22 percent of business travelers think that traveling disrupts their relationships and their daily life. The same percentage of participants also fear that it puts too much pressure on their colleagues, who have to pick up the slack during their absence. Even if the majority of travelers believes that the positive aspects of business travel outweigh the negative ones, these concerns should not be ignored. "Relationships are a fundamental part of a person's wellbeing and companies have the obligation to ensure their employees' travels are not jeopardizing them at home or in the office," says Catherine Maguire-Vielle, EVP and Chief Human Resources Officer at CWT.
Regional and generational discrepancies
Frequent travelers in America are generally more worried than their European and Asian counterparts, with 26 percent convinced that their private relationships suffer, compared to 23 percent in Europe and 18 percent in Asia-Pacific. However, they see their professional relationships less at risk – just 16 percent believe that it puts pressure on their colleagues when they travel a lot, while the figure is 24 percent in Europe and 25 percent in Asia-Pacific. Interestingly, German Frequent Travelers are particularly concerned about the burden on their colleagues: Within Europe, Germany is in the lead with 37%.
When it comes to different generations, Boomers in Asia-Pacific and Europe are most likely to see their personal relationships jeopardized. In North and South America, Gen X travelers are most concerned. In all three regions, this generation worries about putting a strain on colleagues. On the other hand, Millennials in all three regions fear most that their families might believe they prefer traveling to staying at home.