What a ride it has been. Over the past 18 months the event industry has been severely impacted by the COVID pandemic. Live events were suddenly transformed into virtual or hybrid formats. A boost in technological developments to facilitate such events resulted in amazing platforms for communication, collaboration, and engagement with bold exciting design and branding, bringing a newly accessible facet to the industry.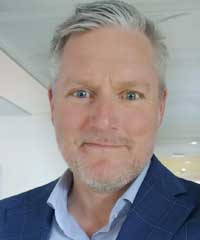 We talk with Fredrik Hermelin, Senior Director Global Sales CWT Meetings & Events, about the technical uptake and transformation of meeting and events.
Can you tell us a bit more about the current status of the Events Industry?
Since a very long time I can confidently say that people feel comfortable again attending in-person events. We see that reflected in new requests across the globe. There is a huge drive to get back together after such a long time, and I guess we all need it. But will that be the end of virtual or hybrid events? Certainly not!
It is anticipated that two-thirds of organizers will still be planning virtual and hybrid events and more than 60% will continue to infuse virtual aspects into their live events.
What are the main reasons behind event organizers sticking to the hybrid format?
The first reason is that with a hybrid event you can reach a larger audience. The attendees that will always attend your event will be there on location anyway. People that cannot, or will not, travel can participate online.
A hybrid event is more resilient to calamities. In the event of a venue problem or changing health guidelines, it is possible to switch to 100% virtual even at the last minute.
Virtual and hybrid events also give even more possibility to harness data in detail and gain a more in-depth understanding of how the content was consumed.
What do you think events will look like going forward?
We already see the return of meetings and events with a whole new set of regulatory needs for travel and meetings safety. Several of our major global clients have indicated that they will be replacing all local or regional day trips with a virtual or hybrid pre-designed format.
Going hybrid means the ability to bring people together in a controlled and safe environment. By using the same set-up around the globe, everyone can participate and contribute. It is a perfect, sustainable solution that can easily be predefined, company branded and connected in case of sudden disruptions.
Would you like to add a final conclusion?
The future will be filled with meetings and events for sure, both in-person and virtual. We are here to support and help you to connect to a predesigned virtual platform with the best fit. Not only for your meetings and events but also to activate and adapt your Business Continuity Plan in case of any business travel restrictions.
One thing is certain: whether meetings and events take place in-person, online, or in a hybrid model, those that remain flexible, prioritize safety and emphasize significance will become the norm.