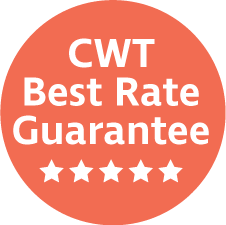 We're so confident that our clients' travelers can get the best rates for hotels with CWT-negotiated rates, we guarantee it.
If a traveler finds a lower rate on a hotel than the one booked with CWT, we'll refund the difference, up to USD $500.00.
Here's how it works:
The traveler must fill out the Best Rate Guarantee form on the day of booking, to claim a best rate guarantee.
The traveler must provide a screenshot of the lower rate, the CWT booking record locator reference and proof of rate paid after the travel is completed.
The rate booked by CWT must be a CWT Hotel Programme Rate or a CWT Value Rate.
The comparison rate must be publicly available for the same hotel, on the same date(s) and with the same amenities included.
CWT's Best Rate Guarantee does not apply to comparison rates found using loyalty points, membership agreements or special promotions.
Complete terms and conditions for CWT's Best Rate Guarantee.
The Best Rate Guarantee is applicable in the following CWT territories.