Organising travel to major Indian cities like Mumbai or Bangalore is rarely a problem. The market has matured, infrastructure is well-developed, and major hotel chains are easy to come by.
It's a different story in secondary cities. They're a rapidly growing travel market for many businesses, but hotels and airports take time to build, and they haven't always kept up with demand. As we explored in a previous article, these cities present several challenges when it comes to accommodation – from availability to payments and safety and security.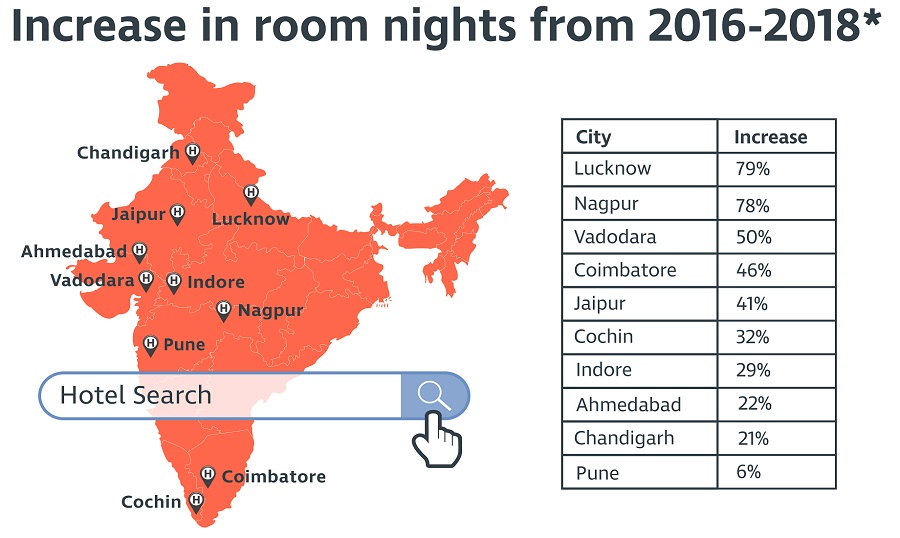 * Compounded Annual Growth Rate (CAGR) in room nights booked from 2016-2018
Here are nine things to consider when managing accommodation in smaller Indian cities:
1. To source or not to source
Running an annual hotel sourcing exercise is common for many corporate travel programs. While this can be refwarding, it can also be incredibly time-consuming and costly.
"We've looked at the numbers and if you have less than 150 room nights in a city, it's generally not worth running a hotel RFP," says Veronique Lescaut, RoomIt by CWT's Vice President of Sales for Asia Pacific. "The time and money you spend on the process can outweigh the savings from your negotiated rates. You're probably better off just using agency rates and content, provided they are competitive and have adequate coverage."
This is especially true in smaller Indian cities, where travellers often aren't able to book their organisation's negotiated rates due to lack of availability.
2. If sourcing, cast a wide net
In cities like New Delhi or Mumbai, including two or three big hotel chains in your program might be enough to ensure your travellers can get a room at your negotiated rate, even in busy periods.
In cities like Lucknow or Indore, that probably won't cut it. Hotels – particularly those belonging to the big brands – are a scarce commodity in these cities. Fluctuations in demand can result in many properties being booked out, and there can be a sudden spike in rates.
Varun Mehra, a Senior Consultant at the CWT Solutions Group offers a rule of thumb: "For every 500 room nights, it's advisable to have four properties in a smaller city, compared with two in a larger city. Depending on the city and number of room nights, a company might include between eight and 20 properties in their preferred hotel program."
"You can also negotiate rates for multiple categories of rooms, which will increase the inventory available to your travellers," adds Mehra.
3. … and be prepared to spend more time
Smaller, independent properties often don't have the technological setup or know-how to respond to RFPs using web-based tools. So sourcing these properties can be a much more manual and time-consuming process.
They are also less likely to respond to RFPs. "In the metros, you might see an 80-90% response rate to RFPs, but in secondary cities this can drop to 40-50%," says Mehra.
4. Use data to gain the upper hand in negotiations
If you're dealing with a chain, you should use your spend with that brand across different cities as leverage to get better rates.
Even when dealing with independent properties, data on your volume and spend in a particular city can be a powerful negotiating lever.

"It's essential to have the right tools and technology to capture data on your travel spend," says Vishal Sinha, CEO of CWT India. "But ensuring that your travellers are booking through the right channels is just as important. Unlike airlines, hotels often won't count off-channel spend towards your volume during negotiations."
It's not uncommon to see travel programs in India where half their hotel bookings are made off-channel, so companies have little visibility over what they're spending and lose negotiating power.
"By providing travellers with enough accommodation options and a better booking experience, and by putting effective travel policies in place, companies can easily bring another 20-30% of hotel bookings in-channel," adds Sinha.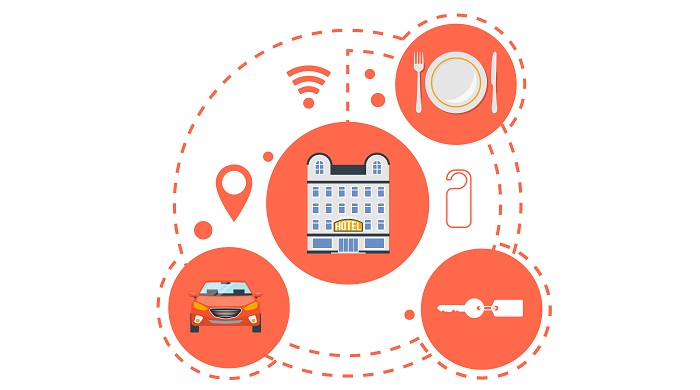 5.  … and don't negotiate just on price
Many conveniences which travellers take for granted are sometimes missing in secondary cities.
For example, ride-sharing services like Uber and Ola don't operate in many smaller cities. And when they do, cars may not be easily available. So it's often up to the hotel or local office to arrange a car and driver to pick the traveller at the airport, and shuttle them around for the duration of their trip.  
Meals can also pose a challenge as travellers might not have a lot of dining options in the vicinity of their hotel.
"It's a good idea to negotiate rates that bundle in ancillaries such as meals, transport, meet and assist services, as well as early check-in and late check-out," says Sinha.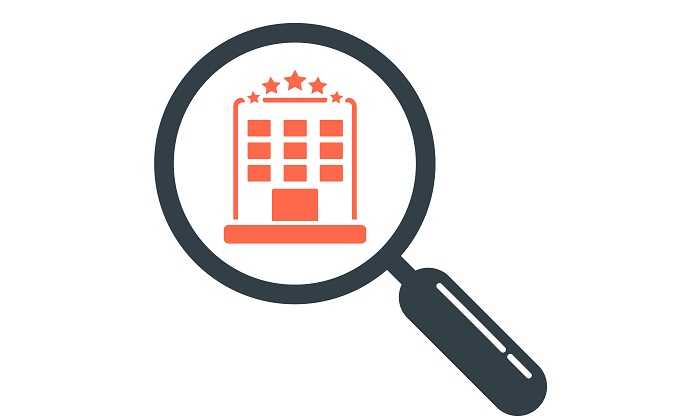 6.  Audit the properties yourself
You can be sure that a major international brand like Hilton or Marriott has proper fire exits in every hotel. That's not always the case with local guesthouses, and unfortunately it's difficult to come by reliable information about whether they're in compliance.
So, if employees are frequently staying in certain independent hotels and guesthouses, sometimes it's best for a travel manager to just show up in person and check for themselves.
7.  Encourage your travellers to share feedback
Another issue that travellers encounter with smaller hotel chains and independent properties is the lack of consistency. The quality of amenities, service and the overall experience can vary widely between properties – and even from one stay to the next at the same property. Reading about the experiences of others helps travellers make better booking decisions. This feedback can also guide travel managers on whether they should remove certain properties from their programs.
"Online reviews have become an essential resource for travellers," says Sinha. "However, most review sites are geared towards leisure travellers, and may not adequately capture feedback on services and amenities that are important to business travellers – things like lounges and business centers. We've created a tool that provides companies with a private hotel review site, which can only be accessed by their employees. This ensures the reviews are extremely relevant."
8. Plan ahead for smooth internet
Sometimes Wi-Fi at the hotel will be fine. But it's not at all uncommon to have ropey internet in some secondary cities. Business travellers need a backup, and the most obvious workaround is to tether a laptop to a phone.
Travel managers should make sure business travellers have enough data. Be aware that there's an added complication for international travellers: it's quite difficult for them to buy a sim card on arrival, so it's best to look at data options well before they leave.
9. Mobile payments are the future... but cash is still king 
While debit and credit cards can always be used at properties belonging to bigger hotel brands, many independent operators might not accept these forms of payment as they try to avoid the merchant fees.
Mobile wallet services like Paytm have surged in popularity, and it may not be long before they're widely accepted for hotel payments.
In the meantime, it's a good idea to keep cash handy when staying at smaller properties. 
Yes, travel to secondary cities in India has its challenges. But those who learn to navigate these obstacles will be best-positioned to capitalise on the tremendous business opportunities that these cities offer. The good news is that things are getting better. Infrastructure is improving, global hotel chains are smelling an opportunity and setting up shop, and payment options are getting simpler. Don't expect to be doing business the same way in three to five years.