Bogotá: a city transformed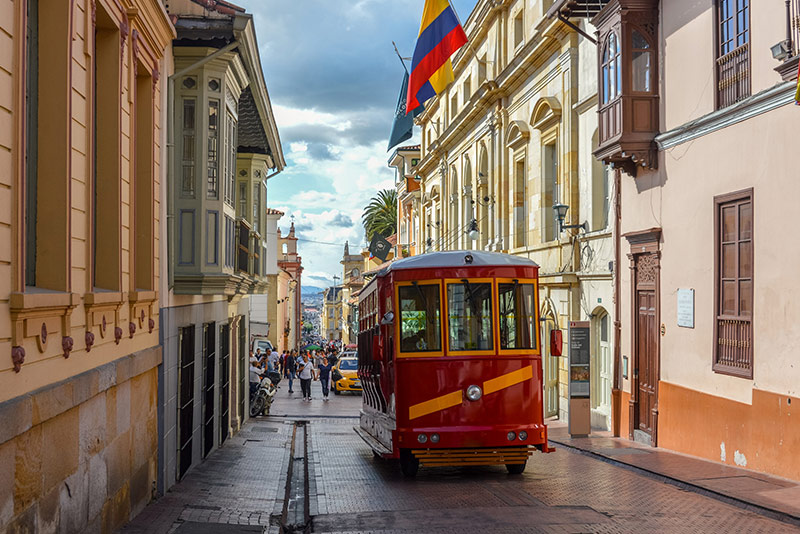 Think you know Bogotá? Colombia's capital is leaving behind its turbulent history and becoming Latin America's gateway for business, innovation and eco-friendly industries.
The approach to Bogotá by plane is a unique experience: a white cloudy sky suddenly opens up, and in an instance all you can see is green. This is the bushy Andean mountains, known to Bogotanos as Cerros Orientales, the terrain where farmers raise livestock outside the city. It's also where you see greenhouses packed with flowers, a reflection of the fact that Bogotá's rural region provides 80 per cent of the floral market in Colombia – helping the country to be the world's second largest flower exporter, after the Netherlands.
Smart Specialisation Strategy

Three years ago, Bogotá's academia, public sector and private enterprises got together to define the future of the city to improve productivity and prosperity, plus sustainable development. The result was the Smart Specialisation Strategy, which focuses on promoting creative economies as pillars of growth; science and life industries, including health services, cosmetics, pharmaceuticals and medical devices; BPO (business process outsourcing), logistics and transportation; human resources, advanced knowledge; and sustainability.
The strategy has been fundamental in attracting new foreign investment, including companies to the country such as Amazon, Huawei, HBO, Sonda and L'Oréal. Bogotá's potential, however, has long been clear and the scale of investment in the past two decades has been impressive. "Between 2002 and 2018, the number of foreign companies located in Bogotá has tripled, from 492 to 1,504", says Juan Gabriel Pérez, executive director of Invest in Bogotá.
Gateway to the Latin American market

Bogotá is now home to a quarter of the Colombian workforce, the third largest labour force in Latin America and the second among all Spanish-speaking countries. The city has an extensive number of bilingual talents and the highest annual rate of graduates. It's no surprise that one in four adults in the city is in some way involved in entrepreneurial activities.
Nowadays, however, new building work comes with new responsibilities. Like all cities Bogotá is coming to terms with the reality of climate change. It's steadily improving its public transport infrastructure and in how it deals with new buildings and construction projects. As Viviana Valdivieso, executive director of the Colombian Council for Sustainable Construction, states, the city has been chosen as one of the 26 Building Energy Efficiency Accelerator (BEA) cities in the world. This has pushed the agenda for the city to commit to sustainable projects, materials and standards, such as using the international LEED certification system for sustainable construction.
Rewriting a reputation

Bogotá is a city with a reputation, but it is one that is being rewritten. Parts of the city, of course, still have challenges. But from being known as a troubled city, the peace process is one of several developments allowing the city to flourish.
Clearly, business and government confidence and investments are paying off. Boosted by innovative regional businesses and backed by investments Bogotá is gaining a reputation as a city being transformed.
Getting to, and around, Bogotá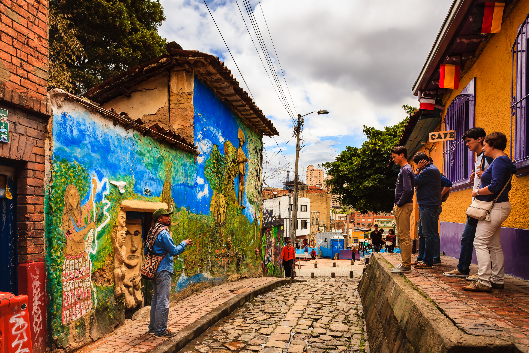 El Dorado Airport holds 49 international daily passenger flights, and 800 cargo movements. Skytrax has named it the best airport in South America for three years in a row. El Dorado holds the largest photovoltaic installation of any air terminal in Latin America, with solar panels, that produce energy equivalent to what's consumed by 1,500 households. Its implementation has allowed the airport to reduce its carbon footprint extensively. The city has a substantial bike network, and the system grows during Sundays and holidays when some streets are closed to vehicles.
The Transmilenio bus service is the city's principle transportation solution, moving 1.8 million people daily – it's slowly introducing electric buses to the network. French company Systra is building the city's first underground line, which will be 100 per cent electric, and has a completion year of 2022.
All these developments will create a more integrated, sustainable travel network. But as with all cities, more will be needed as climate change hits harder.
This article was originally written by María Isabel Magaña for the 2019 Summer edition of Connect Magazine.