On a recent trip to a remote corner of Fujian province, in China's Southeast, RoomIt by CWT's Director of Hotel Suppliers for China found something surprising.
"I went to a town four hours by bus from Xiamen, and I saw an OYO hotel. I didn't see any of the local or global chains there, but I saw an OYO," said Ning Qu, referring to a property managed by the fast-growing Indian hospitality company.
Ms. Qu's experience sheds light on how the accommodation landscape in China's lower-tier cities is changing. The options currently available are still limited mostly to independent budget properties of greatly varying quality. But established international chains like Hilton and IHG, as well the bigger Chinese brands such as Huazhu and Atour, are beginning to smell the opportunity.
For the moment, though, corporate travel programs that prioritize safety and security, consistency in quality and pricing, and value-added offerings like early check-in, late check-out and same-day cancellations, still face many challenges in finding suitable accommodation options in China's third and fourth tier cities.
Small City, Big Dreams – business travel grows to China's smaller cities
China's business travel market has grown tenfold over the past two decades. The Global Business Travel Association (GBTA) says the annual business travel spend in China increased from US$32bn in 2000 to around $347bn in 2017 – and it's expected to grow at 6.5% annually until 2022. What's important to note is that a large part of this growth is being driven by travel to and from the country's smaller cities.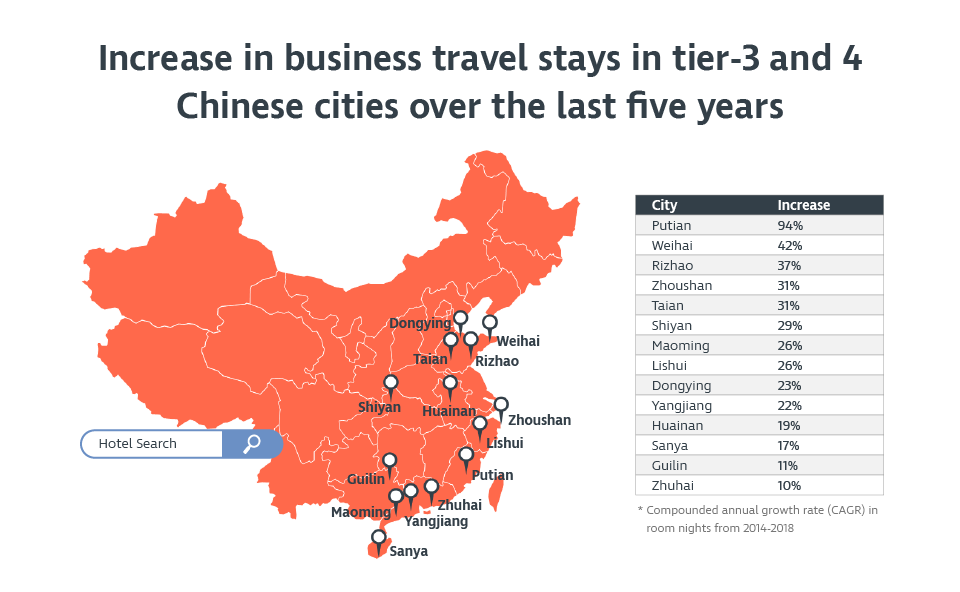 As China's economy has matured, the government has attempted to shift the focus away from investment towards consumption-led growth. It's now a place to sell products as well as make them, and that's fueling a need for business travel.
Increasingly, both Chinese companies and global multinationals need accommodation outside the traditional hubs of Beijing and Shanghai, and even beyond many of the country's secondary cities like Xian, Chengdu and Suzhou. Several tier-3 and 4 cities like Putian, Weihai and Rizhao are seeing double-digit growth in business travel.
"We're seeing companies, especially in the manufacturing and pharmaceutical sectors, increasingly seeking accommodation options in tier-3 and 4 cities because of the way they have set up their businesses," said Akshay Kapoor, Senior Director of Asia Pacific Multinational Sales at CWT. "They have established plants and offices in these cities, and so they need rooms available at all points in time."
On the surface, supply doesn't appear to be an issue. China's massive hotel pipeline has been well-documented. The country saw a 12% annual average jump in the number of hotel rooms from 2.66 million in 2013 to 3.93 million in 2017, CWT's calculations from National Bureau of Statistics data reveal.
According to commercial real estate services firm JLL, the sale of mixed-use developments that require a hotel on the property has also led to excess supply in Tier-2 and Tier-3 cities.
Still, the current hotel landscape in China's smaller cities is comprised mostly of independent properties, as opposed to chain brands. This poses several hurdles for corporate travel programs.
Staying Safe –  independent properties may pose safety & security risks
For a start, these properties are usually not available through the widely-used distribution channels like the global distribution systems (GDSs) – so some travel management companies (TMCs) aren't able to offer these options to their customers.
What complicates matters further is that many smaller hotels aren't even licensed to accept foreign travelers.
This can leave business travelers with few options when they try to book their accommodation through their company's TMC. They often end up booking directly with the properties or through other websites, rather than through the TMC. As a result, the booking data isn't automatically captured, which makes it difficult for their organizations to track them in the event of an emergency – a major safety and security risk.
The safety issue is compounded by the fact that security practices at independent properties can vary widely. At a chain, there'll be standards – but it's difficult to know whether a small budget hotel has adequate street lighting or fire exits that are up to code.
RoomIt by CWT, CWT's hotel distribution division, has been looking for ways to increase the number of business travel-relevant options it can offer its customers in China's more remote towns and cities.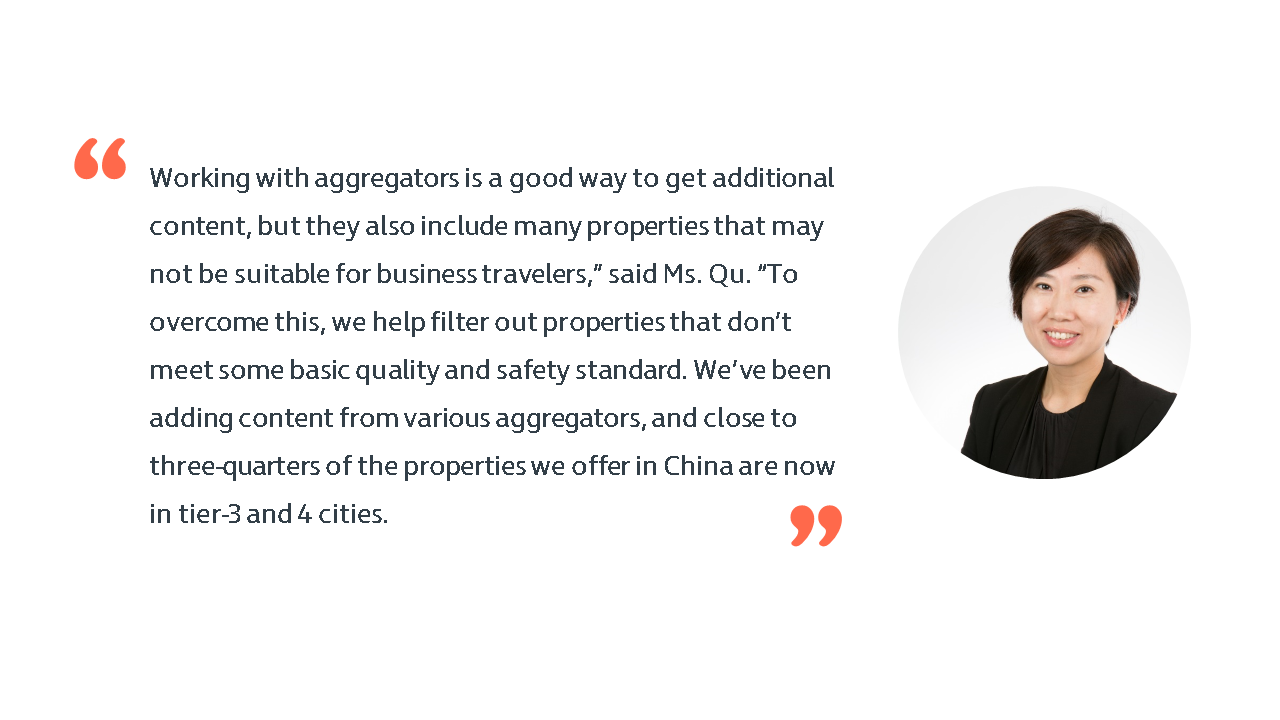 Companies with extremely stringent safety requirements, like those in the energy, resources and marine sectors, will often conduct additional checks and site audits before allowing their travelers to stay at these hotels.
Hitting a Great Wall – when negotiations falter
Another hurdle lies in negotiations. One of the main ways companies save money on their travel spend is to negotiate corporate rates with hotels. In exchange for guaranteeing a certain number of nights at a given property, hotels will offer rooms at below public rates, and might bundle in extras.
It's easier to negotiate corporate rates with hotel chains, as they have properties across many cities, and therefore might account for a bigger proportion of a company's total travel spend.
With independent properties, you have to negotiate with each one individually.  This can be incredibly time-consuming and expensive – and it's also more difficult to leverage volume across multiple cities to negotiate a better rate.
Also, many independent properties don't have proper processes for working with corporate clients.
"It often depends on direct relationships between the company and hotel sales staff," said Raine Zhao, CWT's Director of Program Management for China. "I've seen cases where a company has negotiated a corporate rate with the hotel's sales manager, only to find that it disappears when the sales manager changes jobs."
Often, there hasn't been a proper handover and the hotel isn't even aware that they've agreed to a corporate rate, according to Ms. Zhao. And in other cases, hotels simply won't honor a corporate rate during periods of high demand.
Local Connections – paying bills as a foreigner
Digital payments in China are advanced. Most hotels will accept WeChat Pay, AliPay and Chinese credit cards. Payment is fairly easy, but there is one exception: foreign travelers.
Albert Zhong, CWT's General Manager for China recounts a time he traveled to a small city in Sichuan province with the company's then Asia Pacific president and the CFO, both of whom were visiting China on a business trip. They expected to pick up the tab, but it turns out it simply wasn't possible.
"They wanted to pay by their credit card, but the hotel would not accept international credit cards," Mr. Zhong said.
This is an annoyance, but it's not an insurmountable problem. It just means that travelers from overseas might need support from the local office to pay the bills.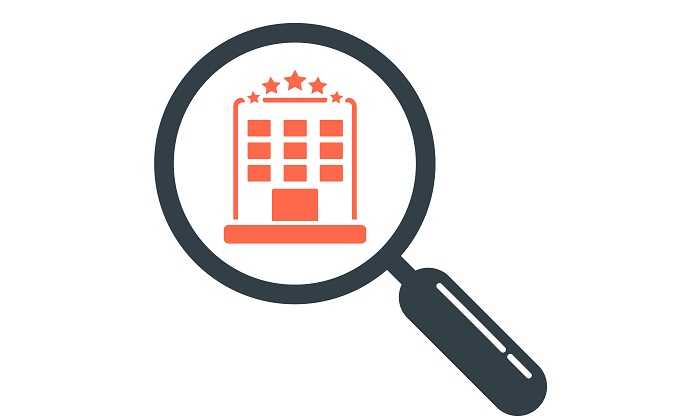 Supply and Demand – more business travel-friendly hotels in development
Things are changing quickly, though. STR, a hotel and travel sector research firm, notes that there are many provinces where demand outpaces supply in the smaller cities. These include Anhui, Guangxi, Hubei Regional, Hunan, Liaoning, Sichuan, Guangdong, Zhejiang and Yunnan.
This is pushing up the average daily rates, and prompting hotel chains to expand their presence in these locations.
"More international hotel chains are looking at tier-3 and 4 cities now, as well as some local Chinese hotel groups. They might not bring their best brand, but would definitely be considered upscale in that market," said Vincci Yang, Business Development Manager for North Asia at STR.
Hilton, for example, already has nearly 200 hotels and up to 400 pipeline hotels across 9 brands. They hope to have 1,000 by 2025, by "strategically deploying different brand segments catering to the diversified needs of each city," the hotel chain said.
The large local players, too, have a lot of properties in development. Jin Jiang Holdings, for example, reportedly has a pipeline of 288 hotels and 33,043 rooms. Meanwhile, the Huazhu Group have said their pipeline was "at a record high of 1,105 hotels" at the end of 2018.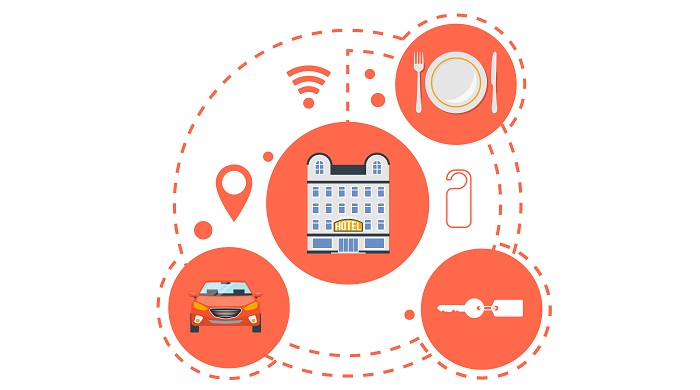 Adam Sun, Senior Consultant, Asia Pacific, CWT Solutions Group notes that there is also a lot of consolidation taking place in the market, with bigger players acquiring independent properties and even other chains.
India-based OYO Hotels & Homes, which leases and franchises independently owned budget hotels, is an interesting example. It recently claimed to have become the second-largest hotel group in China. OYO Jiudian, the Chinese subsidiary of the SoftBank-backed hospitality chain, supposedly has a presence in 320 cities, with around 10,000 hotels and 450,000 rooms under its management. It also reportedly acquired Qianyu, a mid-size hotel brand in China, earlier this year – a move which would further expand its presence into far-flung cities. Still, many corporate travel programs have been cautious in their adoption of OYO's hotels due to concerns over consistency of standards, especially around quality and safety.
The big chains will likely bring greater reliability, safety standards, and make sourcing and negotiations easier. Many chains are likely to improve their digital services too. Hilton, for example, released its first Chinese language mobile app and a WeChat mini app. Other chains are likely to follow suit. Hilton's app will soon be connected to Alipay, and guests will be able to use digital key, online room check-in, and other connected room functionalities on this app too.
"The local chains are also keen to build their brands, so they're focusing on improving the standard of their properties and their service," said Mr. Sun.
As business travel continues its dramatic growth in China, the hotel industry will do it's best to improve service and keep pace with increasing volume of guests. For now, businesses will still face a few challenges.