As China continues its march towards becoming the world's largest economy, some experts believe it could surpass the United States to claim the number one spot before 2030. Much of this growth is taking place in China's smaller towns and cities, as businesses – both Chinese companies and global multinationals – discover new opportunities for expansion.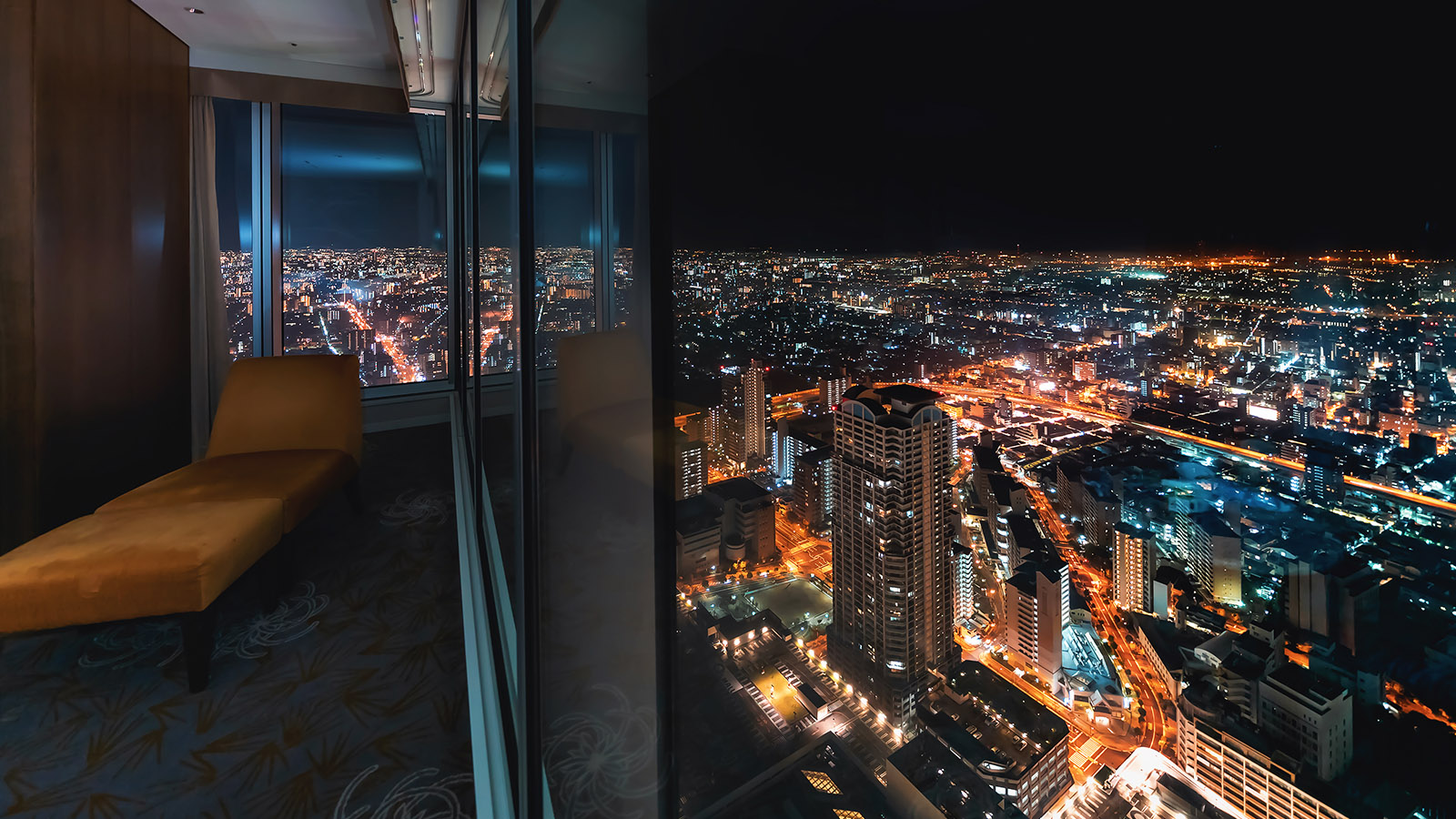 Business travelers are finding themselves visiting more far-flung parts of the country, with tier-3 and 4 cities like Putian, Weihai and Rizhao seeing double-digit growth in business travel. For corporate travel managers, this means they are forced to expand their hotel programs to include lesser-known locations – and accommodation providers with which they might not be familiar.
The numbers in China are huge, with estimates that the country had 3.93 million hotel rooms in 2017, and that number continues to grow. But the established hotel brands are concentrated around the big cities, and when you venture beyond those, the hotel landscape in China's more remote towns and cities is comprised mostly of independent properties, as discussed in a recent article. These are generally not available through traditional distribution channels like the global distribution systems (GDSs), so booking them can be challenging.
In the meantime, here are some handy tips to help you manage your organization's accommodation needs in China's smaller cities:
1. To source or not to source?

The hotel RFP process can be time-consuming and expensive. To achieve a positive return-on-investment, your hotel sourcing exercise must generate significant savings.
Analysis by RoomIt by CWT suggests that if you have fewer than 150 room nights in a city, it's generally not worth running a hotel RFP. You might achieve better results using agency rates and content, provided they are competitive and have adequate coverage.
Ning Qu, RoomIt by CWT's Director of Hotel Suppliers for China, shares an example of a company from the cosmetics industry that had more than 300 properties across China in their hotel program. "When we reviewed their program last year, we found that the top 40 hotels alone were contributing to over three-quarters of the total savings from the program. The rest weren't offering very competitive rates. In fact, 27 hotels that were charging higher rates than those available on the OTAs!"
2. If sourcing, cast a wide net

If you do decide to proceed with an RFP, be sure to include enough properties in your program. 
Adam Sun, Senior Consultant, Asia Pacific at CWT Solutions Group, offers a rule of thumb: "In a big city like Beijing or Shanghai, one or two hotels for every 500 room nights might be enough. In smaller cities, you will need to source more hotels – perhaps one property for every 50-80 room nights – to ensure your travelers can get a room at your negotiated rates."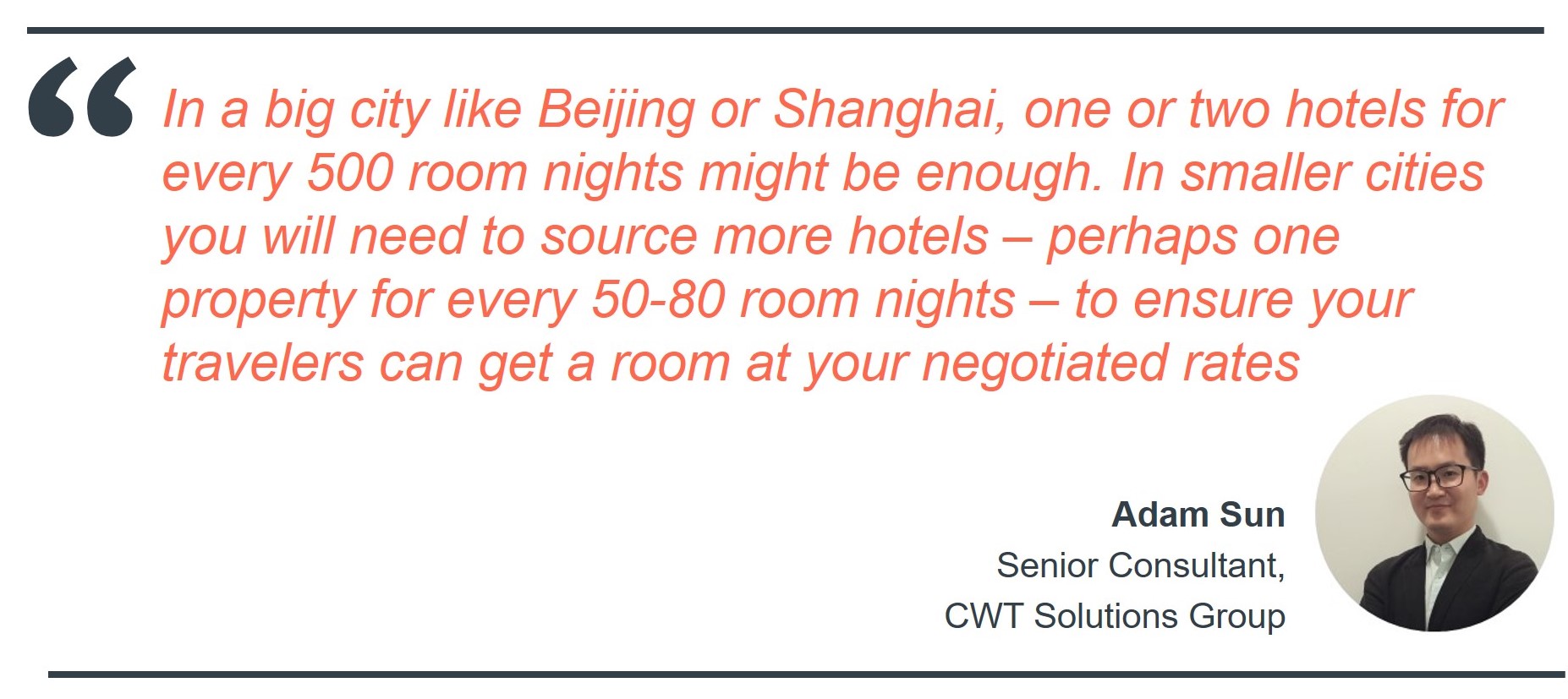 3. … and be prepared to spend more time

Response rates to RFPs in tier-3 and 4 cities can be as low as 40-50%. This is partly because many smaller properties are not familiar with contemporary procurement practices, and may not have been involved in requests for proposals (RFPs).
"Every year we find that around 10-20% of hotels in the smaller cities have not had any RFP experience, so the process can be more time-consuming," says Mr. Sun. "We often need to help the hotels fill in the RFP questionnaire."
4. Use data to gain the upper hand in negotiations

As China's hotel market continues to consolidate, with the bigger chains buying up smaller independent properties, you can get more leverage if you concentrate your spend within the same chain, especially if it has properties in many of the cities your travelers frequent.
You can also improve your negotiating position with independent properties if you can demonstrate that you "manage" your program by monitoring your volume and spend in each city.
"You need to have the right tools in place to capture all the relevant data around your spend," says Albert Zhong, CWT's General Manager for China. "But you also need to ensure your travelers are booking through the right channels, because many hotels won't count off-channel spend towards your volume during negotiations."
5. It's not all about money

Many conveniences which travelers take for granted are sometimes missing in secondary city hotels. For example, travelers may find it hard to find suitable dining options in the vicinity of their hotel.
"Instead of just trying to negotiate a lower price, especially when you may not have a lot of room nights in a city, you can try to negotiate rates that bundle in extras such as meals, early check-in, late check-out and even airport transfers in some cases," says Mr. Zhong.


6. Look long-term
"Around 50% of our clients are extending their contracts for a second year, so it makes sense to consider two-year contracts. This saves time for both parties," Mr. Sun says, adding that most global chains welcome this approach, while Chinese hotel groups are also starting to see the benefits.
7. Getting your agreed rate

Getting one's negotiated rate is a challenge in many markets, but in smaller Chinese cities this tends to be even more problematic. "I've seen situations where a client negotiates with a sales manager and all the records of the deal disappear when the sales person moves on," explains  Raine Zhao, CWT's Director of Program Management for China. "Given the rapid staff turnover at some properties, this can be a real challenge. It's important to engage the sales manager, the sales director, the reservations team and other hotel executives in the rate-loading process to make sure it happens, regardless of staff movements."
Mr. Sun also advises periodic checks to catch these problems early. "Regular audits can help you spot any discrepancies with the hotel, and you can then take action to address these right away rather than having a difficult conversation at the end of the contract."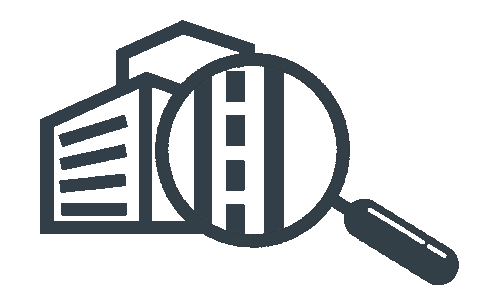 8. Audit the properties yourself
Traveler safety is an important priority for travel managers, and it is therefore essential to ensure that your preferred properties meet your duty of care requirements. While you can be fairly certain that a major international brand has proper fire exits in every hotel, this may not be the case at smaller independent properties.
"We help filter out properties that don't meet some basic quality and safety standards, but we also have clients with extremely stringent safety requirements who will often conduct additional checks and site audits before allowing their travelers to stay at these hotels," Ms. Qu says.
9. Encourage your travelers to share feedback

Unlike well-established brands, independent hotels are less predictable. Service, facilities and amenities can vary widely, and there may even be differences from one stay to another. And because some properties are "off the beaten track", there may not be reliable reviews on TripAdvisor or other similar resources.
"Sharing experiences can help other travelers make better booking decisions – and help the travel manager decide which properties to keep in their program," says Ms. Zhao. "We're working make our CWT Hotel Intel tool available in China next year. This will provide companies with a private hotel review site, which can only be accessed by their employees, ensuring the reviews are extremely relevant."
In the meantime, the best way for travelers to share their feedback with their peers may be through their company's intranet.
10. Plan your payments
International travelers visiting smaller Chinese cities may encounter some hurdles paying the bill. For starters, not all hotels will accept international credit cards. At the same time, it's not easy for foreigners to set up an account on Alipay or WeChat Pay – perhaps the two most widely used forms of payment in the country. Travelers from overseas are best advised to carry enough cash or seek assistance from their local office for making payments.
While travel to secondary cities in China may present unique challenges, the basic disciplines of corporate travel still apply – and can make life easier both for the traveler and for the travel program.
As Mr. Sun from CWT Solutions Group points out, organizations should not overlook their existing expertise, experience and contacts. "At the start of your hotel search, engage with your travelers and your local staff on the ground. They often know better than anyone else what is out there, what they need and, most importantly, what works for them.