Working in life-and-death situations
We were assisting with a perilous evacuation for one of our large oil and gas clients in Iraq. Air strikes had been authorized to protect civilians from Isis forces, creating a very dangerous situation for those ex-pats who had not yet evacuated. We were working hand-in-hand with our client to ensure their travelers' safety. We quickly set up a situation room, which provided hourly status updates on bookings and any other critical changes happening on the ground.
We worked all hours from Thursday to Monday to secure flights, contact charter companies, make last-minute changes, book hotel and ground transportation, and liaise with local partners even as the situation remained fluid.
It was exhausting – both physically and mentally – because the situation was truly life or death. Finally, on Monday afternoon, we received a call from a member of the evacuating team telling us they had safely made it over the border into Turkey.
I will never forget the sound of his voice, and the fact that our team made a difference, not just to his life, but to his team's life, and the lives of their families. I am always proud of my team, but this situation truly made CWT Energy, Resources & Marine shine.
Never a dull moment
I wear many hats as global traveler experience (TX) director for CWT Energy, Resources & Marine's. However, my most important role is ensuring my teams have the support they need. My days starts out at 6:00am so that I can check in with my teams in EMEA and NORAM before diving into email. As the central point person for all CWT Energy, Resources & Marine operational questions and queries globally, my colleagues keep me very busy.
Designing the traveler experience
Our goal is to help reduce stress for your traveling employees. A recent Harvard Business Review study found that almost 75% of people reported high or very high stress related to business travel. Health, Safety, Security, Environment (HSSE) is paramount in every initiative CWT Energy, Resources & Marine rolls out, from the frontline counselors through to the technology solutions we offer.
Making travel seamless
The CWT approach is simple: we want to provide a seamless traveler experience. We serve our clients with booking that is accessible no matter where your employees are: online, via an app, or over the phone. Specific to CWT Energy, Resources & Marine, we are leaders in the field because our online booking platform integrates all elements of a trip on one platform, creating an end-to-end journey that manages each aspect of commercial and logistics travel
Using travel data and machine learning, our technology allows us to "know" our travelers, with call recognition and alerts on current bookings, past travel history, unused tickets and personal preferences. We use these tools to give traveling employees a personalized experience that makes travel less stressful and more efficient.
What's next for TX in business travel
Technology integration will only become more important in the years to come, which is why we have invested heavily in this area. We partner with start-up technology companies to ensure we are always one step ahead of our client's requests, and we are already implementing some of them, like messaging, to help travelers solve problems even faster when they are on the road.
Our teams make the difference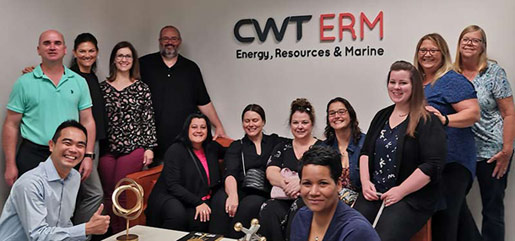 ERM University is a bespoke online training course we are developing for our CWT Energy, Resources & Marine teams, with each level of the program certified and mandatory for our people. This certification ensures that all employees from senior leadership to business development, program management, and frontline counselors are aligned with our goals, products, and culture.
I manage a global team with an average of 16 years in the ERM industry, and every day I receive compliments from our clients about the service they have received. Some of the words used are "efficient", "professional", "compassionate", and "dedicated".
I am extremely passionate about CWT Energy, Resources & Marine. I believe in honesty, transparency, and being able to articulate why change is important. I feel this is my biggest contribution as it creates positive energy in our teams.
The most rewarding part of my job is when my team tells me I have made a difference. I believe I have the hardest working team on the planet, so when they say they feel more connected and proud of what they do, it means the world to me.
Lucy's top tips for travel professionals:
Foster an inclusive culture. CWT Energy, Resources & Marine has a culture of inclusion and integrity. We are all passionate about what we do, but we also take time to breathe and celebrate our successes.
Work towards work/life balance. Setting boundaries is something I have learned over time as it did not come naturally for me. I now make sure I plan my meetings so that I have evenings free to focus on my family and do all possible not to travel on a Sunday.
Take time to unwind. I love the outdoors, and take every opportunity to go for a hike, run with the dog, or paddle in my kayak. When feeling adventurous I participate in triathlons and marathons – now that's a great stress reliever!